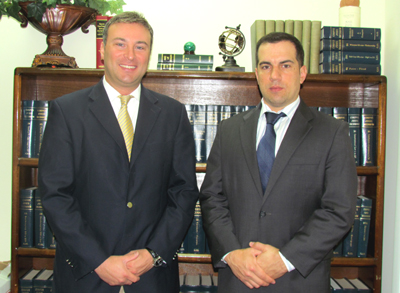 The first general attorney to practice full time in Wellington, Ann Porath has officially retired from her firm Porath & Barbuto, after 28 years serving the community.
Partner Anthony Barbuto has taken over the reins, changing the firm's name to Barbuto Law but keeping the same focus on client service.
"Ann was kind of like the local attorney for many years," Barbuto said. "People came to her for everything, and I've adopted that same dynamic."
A 2004 graduate of Oklahoma City University School of Law, Barbuto began practicing in Wellington in September 2008, when he joined Porath at the firm.
"Since then, to pretty recently, she has been on board working part time," Barbuto said. "Now she has retired."
Barbuto still maintains a license for Porath, and she still holds "of counsel" status, in case she needs to assist longtime clients. "She wanted to slowly transition out and retire gracefully," Barbuto said.
Porath now lives in Camden, S.C., and is finally experiencing her well-deserved retirement. She started her firm in 1984 as a general practice. "Since she was the only lawyer out here when she began, people would go to her for everything," Barbuto said.
Before becoming a lawyer, Porath was a registered nurse. After raising five children, she decided to attend Nova Southeastern University, where she earned her law degree.
Porath is looking forward to enjoying her retirement along with her husband, Peter. "It's good to start a new phase in your life, and that's what we are doing now during our retirement," she said. "We are just enjoying our friends and family because that's what life is all about. It was time to stop going into the office every day."
Porath will be taking it easy during her retirement due to a heart condition. Now 75, she is glad Barbuto was on hand to take over the firm.
"He has been there five years with me," she said. "He is an extremely good lawyer, and I think he will do very well because he is very active in the community, and he's very well liked."
Porath is enjoying her time in South Carolina. "It's very beautiful over here," she said. "It's the oldest inland town in South Carolina and is a very historic town."
Though several states away, Porath still has close ties to Wellington. "We raised all of our children in Wellington, and I have grandchildren who go to Wellington High School," she said.
The firm continues to offer all the same services it did before — family law, wills and trusts, probate, litigation, equine law and personal injury. Barbuto handles a bit of every type of law. "I handle family law cases, a lot of estate planning for elderly clients like wills and trusts, probate and a lot of equestrian cases," he said.
Barbuto handles various equestrian-related matters, from purchase sale agreements to horse litigation, as well as non-equestrian-related matters for equestrians, he said.
Though Barbuto handles all areas of law, it was his strong interest in family law that initially made him want to become a lawyer. Growing up as a child of divorce, Barbuto understands how it feels to go through the court system.
"When I'm representing these clients, it's what my parents were doing for 15 years in the courts," Barbuto said. "When we are fighting for the benefit of the children, it's where I was as a child."
Barbuto's associate, Craig Pohlmann, specializes in handling complex divorce cases. "He focuses strictly on the family law area, and he's also a certified family law mediator, and a CPA, which helps him with the financial aspects of these cases," Barbuto said. "He's excellent at what he does, and an asset to the firm."
Before coming to the firm, Barbuto was practicing law at an insurance defense firm in Fort Lauderdale for two years. A native of New Jersey, Barbuto moved to Fort Lauderdale in 2006. He is licensed to practice law in New Jersey, California and Florida.
Barbuto wants to continue the same quality service and great reputation in the community that Porath developed. "The only thing I would like to do different is grow the firm to add more associates," he said.
Barbuto tries to be easily accessible to his clients, in case of legal emergencies. "Especially with family law cases, since they're so emotional, a lot of times there are emergency situations at 11 o'clock at night and people need legal counsel for advice," he said.
Barbuto offers free initial consultations to find out what people need, regardless of whether he is able to assist them.
Barbuto Law is located at 12773 W. Forest Hill Blvd., Suite 101, Wellington. For more information, visit www.barbutolaw.com or call (561) 798-2907.
Above: Attorney Anthony Barbuto (left) with associate Craig Pohlmann.