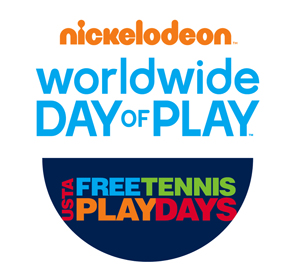 The United States Tennis Association and the Wellington Tennis Center are calling all kids 10 and under to get up and active on Saturday, Oct. 6 as part of the USTA Free Tennis Play Days in celebration of Nickelodeon's Worldwide Day of Play.
From 1 to 4 p.m., children 10 or younger and their families can enjoy an afternoon at the Wellington Tennis Center (12150 W. Forest Hill Blvd.), playing tennis and enjoying food and other activities to celebrate the day.
"Every year, Nickelodeon asks viewers to turn off the television and go outside and play," 10 & Under Tennis Coordinator Debbie Ellsworth said. "The USTA is celebrating with a day of free tennis and other activities for children and their families."
The Nickelodeon event began in 2005 and has gained traction worldwide to promote good health and physical activity.
For three hours, Nickelodeon suspends programming on all its television stations, instead broadcasting a message encouraging families to play together.
The Worldwide Day of Play is the culmination of the station's "Let's Just Play" campaign, which ends this month.
"Nickelodeon asks kids to go outside instead of sitting in front of the television," she said. "So we wanted to provide a great, fun activity for children to participate."
September is also National Childhood Obesity Awareness Month, Ellsworth pointed out. "Tennis is the perfect sport to get kids active," she said. "Our program is geared toward children 10 and under, so they can learn to play in a fun, age-appropriate way. It's similar to tee-ball. The rackets are smaller, the nets are lower, and the balls don't bounce as high."
Ellsworth said that tennis is a sport that will foster a lifelong love of the game, leading to greater physical activity, even if the child never wants to be competitive.
"It's a sport where children can be successful very quickly," she said. "As we know, tennis is a lifetime sport. It's fun and full of fitness. We believe it should be a fun game before it becomes a competition. We hope that this can be a pathway for children to learn about tennis and hopefully continue to play and be active."
In addition to several tennis-related activities on the facility's courts, there will be an inflatable obstacle course, arts and crafts provided by Abrakadoodle, face painting and a DJ, as well as raffle prizes.
The Sports Authority will be on hand providing fun games for children to play, and the Wellington Youfit Health Club will have fun warm-up exercises to get children ready to play.
There will also be free food and refreshments from local sponsors.
"The Wellington Whole Foods Market will be providing snacks along with a 'slime smoothie.' Nickelodeon likes to slime people," Ellsworth said. "Tijuana Flats will provide chips and salsa, the Wellington TCBY will be handing out yogurt, and Lowe's and Publix are providing water and Gatorade."
And to keep kids safe from sun, Ellsworth said SolaRX will provide sunscreen for everyone.
Not only can kids get a taste of tennis in the 10 & Under format, but if they enjoy the sport, they can register for one of several 10 & Under clinics at local Wellington facilities. They can also sign up for a free USTA 10 & Under membership.
Ellsworth encouraged families to participate in the event and spend an afternoon being active together.
"We hope they'll come out and enjoy a day of fun and fitness, participate in the great sport of tennis and have some family fun," she said.
For more information about the event, or 10 & Under Tennis, contact Ellsworth at ellsworth@florida.usta.com.