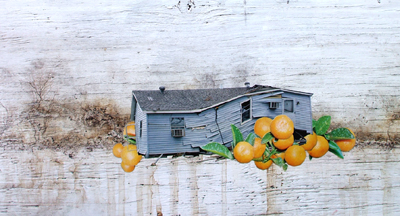 Florida Atlantic University's University Galleries in the Dorothy F. Schmidt College of Arts and Letters will present the exhibition "New Art: South Florida Cultural Consortium Visual and Media Artists Fellowship" Saturday, Sept. 22 through Saturday, Dec. 15.
The exhibition will be presented in both the Schmidt Center Gallery and the Ritter Art Gallery on FAU's Boca Raton campus at 777 Glades Road. There will be an opening reception with music and a cash bar on Saturday, Sept. 22 from 6 to 9 p.m. The Miami-based band Gold Dust Lounge will provide music during the second half of the event at the Ritter Art Gallery. The exhibition and the opening event are free and open to the public.
The exhibition presents 11 artists from Florida's five southeastern counties who have won a highly competitive and generous annual grant awarded by the South Florida Cultural Consortium. This year's South Florida Cultural Consortium Fellowship winners are Nellie Appleby (Monroe); Domingo Castillo (Miami-Dade), Clifton Childree (Miami-Dade), Jiae Hwang (Miami-Dade), Nicolas Lobo (Miami-Dade), Ernesto Oroza (Miami-Dade), Tom Scicluna (Miami-Dade), Eric Landes (Broward), Mark Moormann (Broward), John Sanchez (Broward) and Phillip Estlund (Palm Beach). The artists are selected through a two-step judging process by first a regional panel and then a national panel of visual arts professionals. More than 300 artists apply each year, in part because the grant award for each artist of either $15,000 or $7,500 is among the nation's highest for individual artists.
The majority of the artists in the South Florida Cultural Consortium exhibition this year are sculptors and multimedia artists who will be exhibiting alongside painters, photographers and filmmakers. At least three of the artists, Domingo Castillo, Nicolas Lobo and Tom Scicluna, will be creating new site-specific, or situational, works for the exhibition. Scicluna's project involves deconstructing part of the Schmidt Center Gallery's ceiling to be reassembled on the wall of the lobby adjacent to the gallery, while Lobo is creating a sculpture designed to block this same lobby area by pushing the boundaries of physical access and public safety.
Two traditional artists, painter John Sanchez and photographer Eric Landes, explore aspects of South Florida's urban and suburban environment. Sanchez paints faithful depictions of South Florida's sun and car saturated environments, while Landes photographs in two distinct series: Suburban Anxiety Scenes illustrates ordinary suburban images that are somewhat obscured by cryptic personal messages reflecting the agitations of contemporary life, while Night presents old homes under the strange, artificial light used after dark. Jiae Hwang's large-scale works are also depictive, presenting geometric abstract spaces in her black-and-white drawings, along with a series of smaller, more colorful paintings.
Ernesto Oroza also presents colorful abstractions in an installation that projects close-up images of recycled plastic goods crafted in his native Cuban homeland. Oroza pays homage to the terrific resourcefulness of everyday Cubans, who must become "designers of necessity" because new industrial and architectural products are extremely hard to come by in Cuba.
Like Oroza's works, Nellie Appleby's ecologically themed sculptures and installations also refer to design, specifically interior and landscape design through her use of living plants. Another artist who explores aspects of the built environment is Phillip Estlund, who makes surreal collages often constructed from interior design and architecture magazines. Estlund also creates relief and freestanding sculptures in reference to the raw material of domestic architecture that has become abject through natural disasters, decay or neglect.
Mark Moormann is the only artist in the exhibition to be awarded the consortium grant as a media artist. As a documentary filmmaker, he will present selections from two recent projects: a short piece on the Thessaloniki Festival in Hialeah and a longer documentary on Stetson Kennedy's struggle against racial injustice. Clifton Childree, an installation artist, also employs and refers to film. Childree creates carnivalesque installations that usually incorporate videos he has created. These videos, like the sculpture surrounding them, reflect early film through their period looks and slapstick humor.
The University Galleries are open Tuesday through Friday from 1 to 4 p.m., and Saturday from 1 to 5 p.m. Visitors must obtain a $2 parking pass or employ the limited metered parking before visiting the galleries. More extensive parking directions are available online at www.fau.edu/galleries.
The galleries operate an active Museum Education Program that is approved as a Field Experience Provider by the School District of Palm Beach County. Class and other group tours can be arranged both during and at times other than the galleries' public hours.
For additional information on the upcoming exhibition, visit www.fau.edu/galleries.
Above: Intramixed, a collage by Philip Estlund.