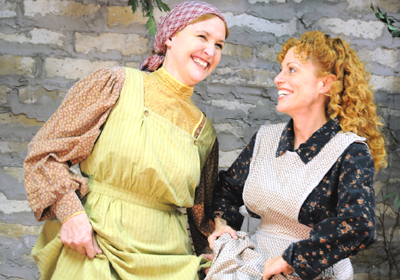 Palm Beach Dramaworks, West Palm Beach's only resident professional theater, has announced that Maureen Anderman, Dennis Creaghan, Ethan Henry, Margery Lowe, Colin McPhillamy, Angie Radosh, Julia Rowe, Erin Joy Schmidt and Brian Wallace are among the distinguished actors scheduled to appear during the 2012-13 season.
Palm Beach Dramaworks' 13th season launches on Oct. 12 with Lanford Wilson's Pulitzer Prize–winning play Talley's Folly, which runs through Nov. 11. Erin Joy Schmidt and Brian Wallace are featured as Sally Talley and Matt Friedman, the unlikely sweethearts who find themselves drawn together in an intense romance.
Up next is Edward Albee's A Delicate Balance, starring Carbonell Award winners Angie Radosh and Dennis Creaghan, and Tony Award nominee Maureen Anderman.
This Pulitzer Prize–winning play tells the story of a well-to-do Connecticut family whose life is upended when friends, seized by a nameless terror, come to live with them. A Delicate Balance runs Dec. 7 through Jan. 6.
The season continues with Lorraine Hansberry's classic drama A Raisin in the Sun, starring Ethan Henry. In this powerful play, a substantial insurance payment could have life-changing consequences for a poor black family living on Chicago's South Side in the 1950s. A Raisin in the Sun runs Feb. 1 through March 3.
The curtain rises next on the comic romp Exit the King, featuring Colin McPhillamy as the incompetent king. In Eugene Ionesco's absurdist work, a dying king has left his country in near ruin. Despite the efforts of the queen and others to convince him he has only 90 minutes left to live, he refuses to relinquish any control. Exit the King runs March 29 through April 28.
The season concludes with Brian Friel's Dancing at Lughnasa, with Julie Rowe and Margery Lowe playing two of the five Mundy sisters who make the most of their simple existence in rural Ireland. This Tony Award–winning memory play is told decades later from the perspective of the youngest daughter's son. Dancing at Lughnasa runs May 24 through June 23.
All plays and dates are subject to change.
Palm Beach Dramaworks' performance schedule is as follows: evening performances will take place at 8 p.m. Wednesday through Saturday and 7 p.m. Sunday. Matinee performances will take place at 2 p.m. Wednesdays, Saturdays and Sundays. Individual tickets cost $55 for all performances. Student tickets are available for $10. Group rates for 20 or more and discounted season subscriptions are also available.
Palm Beach Dramaworks is a nonprofit, professional theater and is a member of the Theatre Communications Group, the South Florida Theatre League, the Southeastern Theatre Conference, the Florida Professional Theatres Association, the Florida Theatre Conference and the Palm Beach County Cultural Council. Dramaworks' new Don & Ann Brown Theater is located in the heart of downtown West Palm Beach.
For additional information, call the box office at (561) 514-4042, open Tuesday through Saturday from 10 a.m. to 8 p.m. and Sundays from 11 a.m. to 8 p.m., or visit www.palmbeachdramaworks.org.
Above: Julie Rowe and Margery Lowe in a scene from Dancing at Lughnasa.