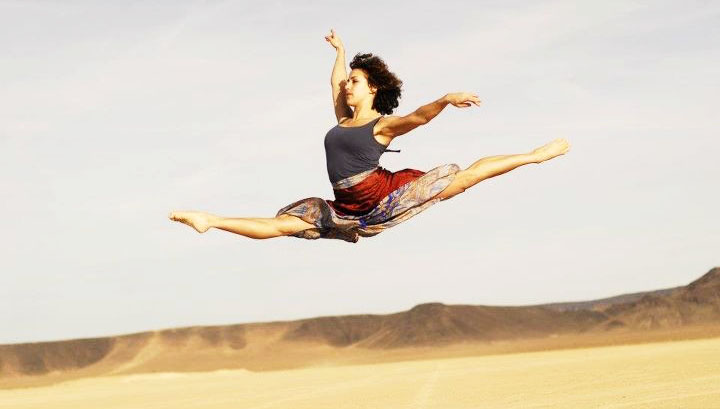 More than 25 family members and friends gathered last Wednesday night at I'm Greek Today restaurant in Royal Palm Beach for a watch party for Eliana Girard, the 21-year-old Wellington native who is appearing in Fox's hit show So You Think You Can Dance.
"We are all so proud of her," said her brother Justin Girard.
He organized the party and gathered supporters to watch his sister, now in the top four and guaranteed a spot on the show's national tour this fall.
Eliana has been dancing since she was 3, when her mother, Della Striker, first put her in dance school. Eliana continued dancing throughout her youth while attending school at Wellington Elementary School, Wellington Christian School and the Bak Middle School of the Arts. "She has always loved to dance," Striker said. "She can do all kinds of dance."
Striker and her husband, George, have been supporting Eliana every step of the way. Striker, a yoga and Pilates instructor, took off a month from work, along with her husband, to go to California and be there for Eliana. "We got to sit in the audience and see her perform live, which is really amazing," she said.
The youngest of six, Eliana has four brothers and a sister, as well as 12 nieces and nephews, who all feel good watching her compete in the nationally televised competition. "We all are supporting her," Justin said. "She is the baby of the family, and we all want to see her do well."
Eliana's journey to the show has been an intense one; she has been accomplishing goals of which many dancers only dream. As a teenager, Eliana attended Dreyfoos for only a year, and then, at 16, she headed to the Joffrey Ballet School in New York City.
After high school, Eliana decided to pursue her dream of dance, studying at the Alvin Ailey American Dance Theater. In 2009, she auditioned with Cirque du Soleil in Montreal and landed a job as a dancer and aerialist in its Viva Elvis show in Las Vegas.
In March, with her contract up, Eliana auditioned for the ninth season of So You Think You Can Dance. "She has always wanted to audition, so she decided not to renew her contract with Cirque du Soleil, and flew out to L.A. to audition," Striker said.
She won a place in the audition to become one of 200 contestants sent to Las Vegas for a week in April. "Then they narrowed it down," Striker said. "Out of the 200, they picked 10 guys and 10 girls as their top 20 to be on the TV show, and Eliana was one of the top 20."
Which brings us to where she is now. Every Wednesday, Eliana gives it her all and performs for a chance to be one of the winners. Her chances are extremely promising, since she made it to the top four. On Wednesday, Sept. 12, she will compete in the finals; the show picks just one couple as the winners. "Every week, we just hope that she makes it through," Justin said.
Eliana is living her dream. "Her dream is to dance, perform and bring joy to people," Striker said. "To see her do that every week is breathtaking, and I have a lot of joy right now."
Eliana receives tremendous support from her fans, from personal letters to packages of cookies. "She has over 7,000 people following her on Twitter, and she's just loving it," Striker said. "She enjoys connecting with her fans, and she couldn't be happier."
The show airs Wednesdays at 8 p.m. on Fox. To catch Eliana perform live, make plans to attend the fall tour of So You Think You Can Dance. The last show of the tour is on Wednesday, Dec. 5 at Seminole Hard Rock Live in Hollywood. For more information, visit www.fox.com/dance.