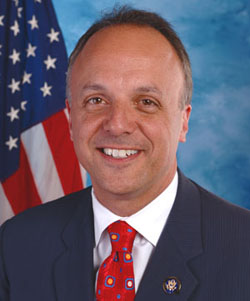 Congressman Ted Deutch (D-District 19) was the guest speaker at the Central Palm Beach County Chamber of Commerce luncheon Monday at the Wellington Community Center.
Deutch (shown above) congratulated chamber members on the successful merger of the Greater Lake Worth and Palms West chambers of commerce, citing it as the kind of cooperation needed on larger levels, including the federal government, to resolve current economic issues.
"There are things we can accomplish on behalf of our local economy when we work together, working with all of you to further those shared goals that we all have," he said.
Deutch was elected to Congress in 2010. Before that, he served in the Florida Senate for four years. He is a commercial real-estate lawyer.
"As you can imagine, I have seen the unwholesomeness of the Florida economy when it comes to development and growth," he said. "I have learned from my days in the firm the role that construction plays in South Florida, the role that development plays, and how commercial development all work together here in South Florida to boost and propel our economy. Everyone knows that these sectors are still struggling to get back to where they were before."
While there is a lot of work to do, he also noted that many businesses have added jobs in the past 30 months. "This is something that I am particularly excited about," Deutch said. "Florida in particular is coming back in a really significant way."
Deutch said he is intent on enacting legislation to get the economy moving again. "There is so much we can't do but we really have to do to move the economy forward," he said. "You may have noticed that recently in Washington… partisan gridlock has taken hold. All I can tell you is the frustration that I feel, I know is shared by my colleagues."
Although Congress passed a two-year transportation bill, he said he was frustrated that a long-term transportation bill wasn't passed, calling that necessary for the creation of more jobs.
"I'm going back to Washington from here, and I continue to be hopeful that when it comes to some of these big issues, we will be able to come together to figure out how to get through them," he said.
Deutch said there are some relatively simple nonpartisan things that can be done that he will continue to press for, such as blocking any tax increase on small businesses. "We need to ensure that at least 98 percent of small businesses won't see a tax increase at the end of the year," he said.
Another impetus to encourage investment by small businesses would be allowing them to write off investments in such things as computers and machines. "We can permanently eliminate capital gains taxes on certain small business stock held for more than five years," he said. "That would help drive small business, which is ultimately where jobs are created in our economy."
Deutch has spent a lot of time in Washington talking about a national infrastructure bank. "A national infrastructure bank would permit us to take the funds that we desperately need to compete, not as Democrats and Republicans, but for the U.S. to compete internationally with Brazil, China and Russia," he said. "We can make those investments in the infrastructure that we need — the bridges, roads, airports, seaports."
The legislation is supported by both the U.S. Chamber of Commerce and the AFL-CIO, he said.
"There is a pool of private capital out there, much of it being invested in infrastructure projects around the world, that could come back and invest here," he said. "There is $400 billion of private capital to be invested in infrastructure projects here that would really help not only put people back to work, but would help put us in a [better] position to compete internationally."
Deutch predicted that the Republican and Democratic numbers will be closer in Congress after the upcoming election, but that no matter what the balance, Congress must respond to the needs of the people by working together.
"It's going to require a balanced approach," he said. "We want to see our economy transform in a way that focuses more on making the kind of investments that permit the private sector to really work," he said, listing investments not just in infrastructure but in research and education.
Deutch said Congress can't afford to wait until after the election to take steps to restore the economy.
"I know there is a presidential election taking place — you can't miss it," he said. "For those of us in Florida, if you ever watch television, the ads continue to pick up, and a lot of them are nasty. It's frustrating. I understand that. But Congress still has an obligation to work on behalf of the American people."
He remains optimistic that positive action will be taken. "I don't think you can do this job without a healthy dose of optimism," he said.
Deutch received his law degree from the University of Michigan. He lives in western Boca Raton with his wife and three children.
Currently representing the 19th Congressional District, he is seeking re-election in the newly drawn 21st Congressional District. Deutch, who does not face a Republican challenger but will be on the ballot along with two independent candidates, is highly favored for re-election in a district that is considered a safe Democratic seat.
Should he win re-election, he will represent all of Wellington in Washington, D.C., rather than just a small part of the community as he does now.
In other business, chamber members learned about the Wellington Rotary Club's plans to mark the United Nations International Day of Peace at the Wellington Rotary Peace Park on Friday, Sept. 21 at 6 p.m.
Rotarian Wes Boughner invited chamber members to attend the observance.
"I'd like to extend an invitation to all of you and your families to attend our United Nations World Peace Day observance," Boughner said. "We believe that world peace begins in our communities."
The Wellington Rotary participates in a peace initiative that starts in February and culminates Sept. 21, which is World Peace Day. "We have 500 to 1,000 children who participate in our poster, essay and poetry contests," Boughner said. "We give prizes to the winners, and at our annual event, we will have our ceremony and once again we will be placing some new peace poles in the park."
A peace pole is typically 8 feet high with four to eight sides. Each side displays the message "May Peace Prevail on Earth" in different languages. He said more than 250,000 peace poles have been dedicated in more than 200 countries across the world.
The Wellington Rotary will also give out community peace and conflict resolution awards, as well as peace merit badges to scouts at the ceremony. The release of peace doves culminates the ceremony.
"Our purpose is to bring to the community our word of peace," Boughner said. "The only way we can do this is by having your participation."
Wellington Rotary Peace Park is located off Forest Hill Blvd. at the corner of Royal Fern and Birkdale drives, between the Wellington branch library and Elbridge Gale Elementary School.