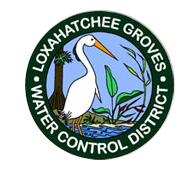 In a workshop session Monday, the Loxahatchee Groves Water Control District Board of Supervisors set parameters of a new contract for longtime District Administrator Clete Saunier that would mean significantly less in salary and benefits.
Although most supervisors ranked Saunier, who has led the district for 15 years, as achieving above expectations, with only one rating him as just "satisfactory," they agreed that the cost of his contract, written in a tumultuous era when the board sought stability, had grown to the point that it far exceeded comparable contracts for similar responsibilities.
Supervisor John Ryan said he has worked with Saunier for years and has a high regard for his abilities.
Ryan explained that the workshop's focus was Saunier's 2003 contract, which has been renewed several times. That contract contains automatic renewal previsions and termination provisions that make it impractical to open up and adjust.
"I believe the original contract has outlived its original purposes," Ryan said. "I think we need to work through the effect of the annual contract increases that really has increased salary and allowed some benefits to get out of an affordable range."
Saunier's 2003 contract was for $80,000 a year, with an automatic 3 percent annual increase each October, plus benefits.
Nine years later, that has translated to a base salary of approximately $122,800, which rises as high as $176,000 once benefits are included, according to various district sources.
Ryan was also concerned that sick and annual leave benefits had become an additional cash-out option for Saunier, which was not the original intent. Ryan said he believes Saunier should have benefits comparable to other longtime employees.
Supervisor Don Widing said his views were similar to Ryan's. "I do agree with John in the sense that it's time to take a fresh look at the marketplace for similar jobs and responsibilities," Widing said.
The board had several lists of salary comparisons for managers and engineers in other special districts and municipalities to work from. Widing added that he had found one publicly advertised position with similar responsibilities for the 63,000-population City of Hallandale Beach calling for a professional engineer with administrative experience that had a salary range of $123,000 to $153,000. "The requirements are very similar to the competencies that Mr. Saunier has," Widing said.
Widing also brought up a policy capping termination pay at 20 weeks that has been set by the state legislature. "I personally have 60 days," said Widing, who is the chief of fire-rescue for Oakland Park in Broward County.
However, Widing also wanted to protect Saunier, whose position is vulnerable because he works for five board members subject to change with elections.
"It's much different than working in a municipal government where you just work for, say, a city manager," he said. "I think we should blend this and stay on the track of employee of the district, and the contract would be a minor piece but an important piece with respect to severance and accountability."
Supervisor Frank Schiola said he recalled that the board at its previous meeting had voted 5-0 to make Saunier a district employee rather than a contractual worker. He also thought the Hallandale position Widing referred to entailed more responsibility since it included public works for a city of 63,000.
"We move water from one part of the district to the other," he said. "We deal with grading roads and [paving] roads. That's pretty much it, so I don't see where this comes into play. I can see where if we had 25,000 or 30,000 residents, we'd be close to this."
Widing said the purpose of his example was that if they were to advertise for Saunier's job, it was a sample of what they would try to attract and at what salary range.
Supervisor Robert Snowball said he had talked with Saunier about the salary range, adding that he thought the appropriate range would be $120,000 to $150,000 a year, including benefits. "I do not want to automatically renew a contract," he said.
LGWCD Chairman David DeMarois said he hoped other board members would keep in mind that Saunier is a 15-year employee. "The district should, in fact, be responsible to the employees," DeMarois said. "I read every one of the evaluations that all of us have given him, and the directions that you have given him under those evaluations, and I think he has met all of those."
Ryan said he thought the list of comparable positions in the area provided by the LGWCD attorney was a good tool. He said he went through it to compare various job descriptions matching Saunier's.
"When I put all those together, I came up with a job range that would be adjusted for experience and performance and subjective factors," he said. "Our employee manual says that every job in the district will have a salary range. The range I came up with for salary was $85,000 to $105,000. I certainly think Clete would be at the higher end of that range."
Taking a base salary of $105,000 and adding a comparable benefits package of $36,760, including individual medical coverage, with additional costs for family similar to other employees' plans, Ryan came up with a total package of $141,760.
He said the package did not include vehicle benefits that Saunier has had in the past. He pointed out that a new vehicle that Saunier acquired recently costs the district $554 a month, and the district has paid for fuel, repairs and insurance in the past. "We might want to adjust the use of that vehicle, but that is not included in the value of that package that I mentioned," Ryan said.
Ryan also did not include some other benefits, such as a paid cell phone, which Ryan considered as appropriate because Saunier is to be available 24 hours a day. The board later decided to offer $100 a month in cell phone expenses.
Another item Ryan wanted considered is the district's ability to pay off Saunier under the terms of the existing contract if he should not choose to accept the new offer, which would be $93,337, and the district would have $224,837 available to pay off the contract.
"I think that in the past, one of the big reasons we've never wanted to change anything in the contract, and it kind of got away from us in terms of the annual increases, was the cost of termination benefits," Ryan said. "We really didn't have reserves that could handle that."
After more discussion, the board reached a consensus of a range of between $120,000 and $150,000 for a total package with benefits the same as other employees, and a simplified contract to offer Saunier.
They directed attorney Mary Viator to work through the details and bring them to the board's Oct. 8 meeting. They also changed the date of their Nov. 12 meeting to Nov. 5 in case they need to consider the contract further, since Saunier's current contract expires Nov. 14.