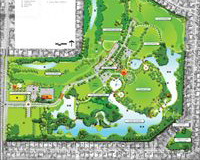 The long-awaited opening of Royal Palm Beach Commons Park has been delayed yet again.
In the spring, village leaders were hoping for a Fourth of July grand opening, but that was scrubbed due to construction delays blamed on poor weather, as well as changes deemed necessary to open the park safely.
Officials set a goal of October for a Fall Festival grand opening, but further weather delays have pushed completion back yet again.
"Fallfest is being held at Veterans Park, so that's not going to happen," Parks & Recreation Director Lou Recchio told the Town-Crier on Wednesday. "We're looking at a Dec. 1 soft opening of the facility. There won't be a ribbon cutting or anything like that."
A big celebration will likely wait until early next year, he said.
"The grand opening, as far as the ribbon cutting and everything like that, won't be done until March," Recchio said, explaining that it will not be associated with any specific holiday. "We are planning a three-day event on a Friday night, Saturday and Sunday, but it won't be until March. With the weather the way it is, and the rains, it has just pushed us back."
Recchio said the sheer size of the project has contributed to the difficulties in setting a date for the opening.
"Instead of forcing an event and trying to get in there, we just want to make sure that it's completed," he said. "We want to open it right. We want to do it the right way."
Recchio said he will be better prepared in mid-October to talk about a grand opening. The builder, West Construction, has said it will reach substantial completion by Oct. 31, but a punch list will probably remain of things to be completed, he said.
"Once we get in there, there's going to be small things, nothing major," Recchio said. "There may be cleaning, paint touch-up, a cracked sidewalk. These are all things we'll go through and make sure they're taken care of."
When completed, the park will be the largest in Royal Palm Beach, which bought the shuttered Tradition Golf Club in 2005 for $4.5 million. The total cost of the park is about $22 million.
The park will include a 13,000-square-foot maintenance facility, driving range, sporting center, main plaza and great lawn. It includes four man-made lakes, the largest of which is about 20 acres. About a third of the park will be lakes, which will be stocked for catch-and-release fishing. Around the perimeter will be a paved path wide enough to accommodate bicyclists, joggers and walkers.
The great lawn will include multiple picnic pavilions, volleyball courts, restrooms and a banquet garden for outdoor formal events. The area around the great lawn will include a playground, docks, sand volleyball courts and 18 small pavilions and two large pavilions.
A three-story sporting center will be the main structure and the focal point of the park at about 17,000 square feet, and will include outdoor balconies for panoramic views of the park. Kayaks and bicycles will be available for rent, and vendors will also sell snacks. The third floor will be available for catered formal events.
The great lawn itself will be large enough for any gatherings the village plans, such as the Fourth of July celebration.