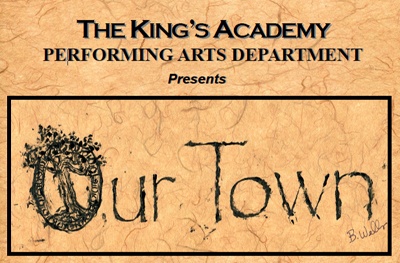 The King's Academy's award-winning Performing Arts Department will present Thornton Wilder's definitive version of Our Town Sept. 27-29 at 7 p.m. This edition of the play differs only slightly from previous acting editions, yet it presents Our Town as Wilder wished it to be performed.
Described by Edward Albee as the greatest American play ever written, the story follows the small town of Grover's Corners through three acts: Daily Life, Love and Marriage, and Death and Eternity. The play is narrated by a stage manager and performed with minimal props and sets.
Audiences follow the Webb and Gibbs families as their children fall in love, marry and in one of the most famous scenes in American theater, eventually die.
To purchase tickets, visit TKA's performing arts web site at www.tkafinearts.net or call the school at (561) 686-4244.
For more information about the King's Academy, visit the school's web site at www.tka.net.