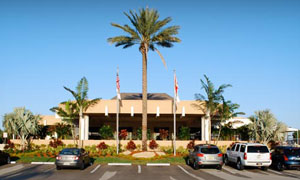 It will take even more discussion before members of the Wellington Village Council make a final decision regarding changes to the Wellington Community Center.
At the council meeting Tuesday, Oct. 9, council members expressed the need for more discussion of important issues — namely, whether to move the Wellington Tennis Center — before finalizing a design.
"I feel like we're putting the cart before the horse," Councilman Matt Willhite said. "We're deciding what to do with the community center before we decide what we want the layout to be."
The issue arose as the council was asked to decide whether it should serve as the final selection committee for the consulting firm that would help design the center.
For the past several months, council members and village staff have discussed the possibility of moving the Wellington Tennis Center to a new location and using the space for parking or a bigger building.
Willhite said he didn't think council members should choose a consultant before making some definite decisions.
"They are not the ones deciding whether the tennis center stays there," he said. "I'm fine going forward with this, but I implore other council members that we come forward with any ideas or thoughts about the issue."
Councilman John Greene said he thought selecting a consultant could help the process. "This could be the catalyst to start the process and make those decisions," he said.
But Councilwoman Anne Gerwig said she was concerned that, due to her professional relationships with many architects and other industry professionals, she would be left out of the decision.
"It would depend on whom it got narrowed down to," she said. "I think this is a huge decision, and precluding me from any input on whether the tennis courts stay or move is improper."
Vice Mayor Howard Coates said Gerwig wouldn't necessarily be precluded from that decision, but Gerwig said she could be.
"If you are going to choose a design team based on how they handle these problems… I am precluded from making that decision," she said. "That's why we decided to go with this process, to see how they would handle these issues we have laid out."
Mayor Bob Margolis said he thought council members might need to sit down with staff members to discuss the issue again.
"It's clear we have a lot of ideas about the community center and the tennis facility," he said. "We need to come together outside of this. It seems like we need to have a workshop."
Village Manager Paul Schofield said he would try to set up a workshop in the next few weeks.
Willhite made a motion to approve the resolution naming the council as the final selection committee for the design team. The motion passed 4-1 with Gerwig opposed.
"I'm not opposed in theory," she said. "But I think staff has more expertise on the matter."
ABOVE: The current Wellington Community Center is slated to be torn down and rebuilt.