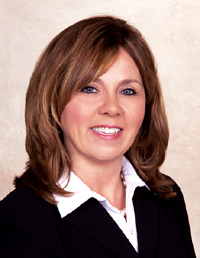 Former federal prosecutor Dina Keever believes her courtroom experience makes her the best choice to be Palm Beach County's next state attorney.
Keever, the Republican nominee, faces Democratic candidate former State Sen. Dave Aronberg and defense attorney Robert Gershman, who is running without a party affiliation, in a three-way general election contest.
Keever grew up in Illinois and attended the University of Illinois, where she received a bachelor's degree in journalism. "I love newspapers, and I think it is a great training ground for law school because of the investigating and writing," she said. "My parents relocated to Clearwater, so I moved to Florida and went to law school at Florida State University."
Upon graduation in 1994, she did an internship at the Leon County State Attorney's Office. "I knew when I stepped in the courtroom that I'd found my calling," she said. "That was exactly where I needed to be."
It's not about putting people in jail, Keever said, it's about upholding the law. "I have a strong sense of justice, and I would like to think of myself as a victim's advocate. Individuals should be held accountable for their actions."
From Tallahassee, Keever was selected for the federal appellate court in the 11th Circuit, which is based in Atlanta and covers Florida, Georgia and Alabama. She worked with Judge Peter Fay in Miami. "He's one of my great mentors," she said. "I had a great year there… I learned so much from the judge about the law. I learned that oftentimes mistakes made at the trial level are not legal mistakes but mistakes of ethics or judgment, so it really drove the point home how important ethics is."
From there she went to the U.S. Attorney's Office in Miami, where she served from 1995 to 1998. She spent time in the appellate section, where she wrote more than 40 briefs and argued cases in the 11th Circuit. She then went to the narcotics unit, where she prosecuted drug cases.
"I quickly earned a reputation as being hard-charging and dedicated to being very fair and ethical," she said.
In 1996, Keever met her future husband, Dr. Mark Agrama, who was attending medical school in Miami. When he graduated, they moved to Philadelphia, where she took a job as a federal prosecutor. Along the way, she had two children, who are now 10 and 12.
Keever and her family returned to Florida in 2008. They live in Palm Beach Gardens. Agrama practices as an ear, nose and throat doctor.
After working with the U.S. Attorney's Office in Fort Pierce, Keever disliked the commute and chose to join Lewis Tein PL, a private law firm, doing commercial financial litigation. She took a leave in April to focus on her campaign.
Keever said her top accomplishment is her years in prosecution. "I think I have made a lot of contributions as a prosecutor," she said. "I always felt that I was on the side of justice, and I find that to be very satisfying and rewarding."
The top issues in the campaign are ethics and experience, she said. "To be state attorney you have to have two things — you have to have experience prosecuting crime and you have to have ethics," Keever said, adding that her experience is better in both than her two opponents.
The state attorney must also have courtroom experience, prosecuting, investigating and strategizing cases, and working with law enforcement, she said. "I think it's very difficult to come in and be the top prosecutor running an office of 125 people if you haven't been a prosecutor yourself," Keever said.
Keever added that because many of her cases have been very large, they involved managing teams of attorneys — an important experience for the state attorney.
Changes she would like to bring to the office include raising the level of professionalism. "There has been a lot of turnover," she said. "The state attorney's office tends to attract younger attorneys out of law school because they want to come out and get their years of experience in the courtroom."
Keever said she would improve legal training, as well as advocacy and ethics and a sense of discretion. She would also try to improve morale. "If a prosecutor has great morale and feels well-equipped, like they know what they're doing, they're much more efficient," she said.
Keever said she recently received the endorsement of retired 26-year prosecutor Ellen Roberts, who prosecuted International Polo Club Palm Beach owner John Goodman.
"She knows what it takes to be state attorney. She served under the previous four state attorneys. She believes, as I do, that the office is basically in chaos right now," Keever said.
She thinks former State Attorney Michael McAuliffe did some good things, including putting emphasis on ethics, before he left to work for a private firm. Keever noted that she has received McAuliffe's endorsement, even though he is a Democrat and she had not really known him prior to the campaign.
Keever believes that interim State Attorney Peter Antonacci has done a good job, including re-establishing a central intake system, rather than a vertical system instituted by McAuliffe. While the federal system is vertical, central intake is more effective for the state office because the volume is much greater and the cases have usually not had prior review, she said. "Right now, they have four veteran prosecutors doing all the intake," she said.
Changes she would make include adding a human trafficking unit, which has become a $32 billion industry in the nation.
Keever said she would continue a good relationship with Palm Beach County Sheriff Ric Bradshaw.
"I've met him two or three times now," she said. "We believe we would work really well together. I would maintain a good working relationship with Ric Bradshaw, but you have to keep a little bit of distance because you have to be able to police each other."
Keever said she supports the work of Palm Beach County Inspector General Sheryl Steckler, but does not think the state attorney's office should be under its purview.
"That wasn't the purpose of it," she said. "The state attorney was elected and answers to the people… The purpose is to ferret out government abuse and waste. If it turns into a criminal fraud or something that is potentially criminal, it is turned over to the state attorney's office."
Keever said she has been surprised at the vitriol that has arisen in the campaign. "Recently, Mr. Aronberg has said he wants to rise above the negativity, but I did not create the negativity," she said, explaining that she came into the race because she saw allegations that a sitting circuit judge had been intimidated out of the race. "I thought it was wrong, and at that point Mr. Aronberg was going to be unopposed."
She promised to serve with the integrity and high ethical standards that the county deserves. "I am someone who is dedicated to this office," Keever said. "This is not a steppingstone."
For more information, visit www.dinakeever.com.