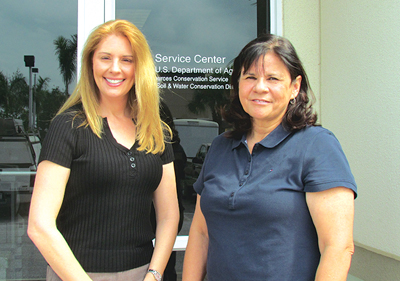 For the past 21 years, the Palm Beach County Envirothon has given high school students throughout the county an opportunity to express their passion for environmental sciences.
Preparation starts months in advance, from putting together a team to understanding and studying the extensive resource material. However, many students might not have the opportunity to participate this year since a lack of financing has put the Palm Beach Envirothon in jeopardy of being canceled.
The Palm Beach Soil & Water Conservation District coordinates the program, and organizers need $5,000 more in order to put on the competition this year. Money is needed for resource materials provided to students.
According to Palm Beach Soil & Water Conservation District Administrative Director Laura Bloom-Fincannon, her district pioneered the event in Florida. "We were the first county to do the event in the State of Florida," she said. "And we have had some of the largest numbers of teams in the state."
Without the money, though, the Palm Beach County Envirothon will not happen, and Palm Beach County students will have to participate in another county. For Jupiter High School teacher and Envirothon advisor Phil Weinrich, this is very discouraging for the students on the teams he assists.
"When we have it in our county, I'm able to take as many as five teams, and that is 25 students who get to actually participate," he said. "One year, when we had to go to a different county, we were only able to bring two teams, and a lot of kids were disappointed."
The best teams at the county-level events go on to compete at a regional level, then winners of regional competition advance to the state competition. The winning team then competes on the national level at the Canon Envirothon, where more than $100,000 worth of scholarships and prizes are awarded. It's is the largest high school environmental education competition in North America.
Students are given hands-on, interactive, problem-solving, environment-related questions. The purpose is to provide students with the skills and knowledge needed to become environmentally conscious and devoted individuals who enhance the quality of the environment.
For 2013, the regional competition will begin in early spring, but students have already begun preparing.
Jupiter High School students are proud to have brought home the state title to Palm Beach County for three years, and have placed in the top 10 out of 54 teams in previous years at the national competition.
"I have very enthusiastic kids, and I have had them come up to me in August before school even starts and ask, 'When do we get together for Envirothon?'" Weinrich said. "They are ready to go at the beginning of the year, and I meet with the kids after school every Tuesday to practice."
Weinrich has been competing for 20 years. He first learned about the program when he was a teacher at Forest Hill High School. Weinrich has seen how the program has positively influenced the students in many aspects of their lives. "It's one of the best things that happens anywhere in the country toward helping kids really focus on their environmental knowledge," he said.
Weinrich has seen Envirothon students who have gone on to careers in environmental science. One became a professor of botany and another is running a fisheries program in New Zealand. "I think it matters to all of us to do everything we can to support this new generation in having a better ability to cope with the environmental challenges that they are going to see in the future," he said.
Palm Beach County Envirothon is open to all high school students in the county. "We send out information to all of the schools, from private to home schools," Bloom-Fincannon said.
For the competition, students are divided into groups of five, and the advisors from the schools are in charge of forming the teams. "Generally there are six students on a team, and one is an alternate," Bloom-Fincannon said.
There are five main topics: aquatics, forestry, soil, wildlife and a current environmental issue chosen by Canon each year. The students spend months studying material they'll be tested on. Along the way, they are helped by dozens of volunteers from the South Florida Water Management District, the National Resources Conservation Service, the Florida Fish & Wildlife Conversation Commission and other organizations, Bloom-Fincannon said.
The Palm Beach Soil & Water Conservation District is extremely supportive of the program, according to district chair Eva Webb, who is frantically trying to get sponsors to support it. "It's a program that not many people are aware of," she said. "I want people to know how important it is, not only to the students but to our community."
Webb is proud of what students in the program have accomplished over the years. "Our Envirothon has sometimes been even bigger than the state one, because we have had more teams competing at the regional level, and we have even helped other counties put together their program," she said.
In order to continue raising awareness about the program, Weinrich will be giving a presentation about Envirothon on Friday, Oct. 19 at the fourth annual Learn Green Conference at the Dreyfoos School of the Arts. "It is a statewide meeting hosted here in Palm Beach County, and it brings people together to talk about green efforts they can make in their classrooms and personal lives," he said. "My students will talk about their efforts on campus, and I will talk about the Envirothon program and how people can get the program started at their school."
For more information about Palm Beach County Envirothon, call (561) 683-2285, ext. 3, or visit www.pbswcd.org.
ABOVE: Palm Beach Soil & Water Conservation District Administrative Director Laura Bloom-Fincannon and Chair Eva Webb.