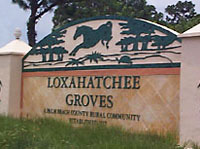 In a 3-2 decision Tuesday, the Loxahatchee Groves Town Council authorized its attorney to ask Florida's attorney general for an opinion on a recent amendment to state statutes regarding non-residential farm buildings, fences and signs.
Town Attorney Michael Cirullo said the legislature approved an amendment that provided that those features are exempt from "any" other codes, including the Florida Building Code, or any county or municipal code or fee, except for code provisions implementing local, state or federal floodplain management regulations.
"Because the attorney general is the chief legal officer of the state and this is a state statute and any interpretation of that statute would apply statewide, and the attorney general has given two previous interpretations on this statute, I would ask your consent to prepare a request for the attorney general to give an opinion on the issue, which has been presented by members of the public to the council," Cirullo said. "It does provide an alternative to litigation."
Vice Mayor Jim Rockett and Councilman Ryan Liang said they would prefer to seek an interpretation.
Liang said he would also like to get a clear answer for all non-residential structures. "I would say move forward with it, and not only that, also specifically mention pens, cages, corrals, gatehouses, aviary cages, anything that we have in Loxahatchee Groves so there is a clear answer, nothing can be interpreted and it's black and white, so in the future we don't have any issues," Liang said.
Cirullo said the amended statute also lists an exemption from any "code," and Florida appellate courts have distinguished "land development regulations" that govern land development from building and fire "codes."
Councilman Tom Goltzené said he thought a simpler solution would be to exempt bona fide agriculture from the town's Uniform Land Development Code. "I think that to ask the attorney general what the definition of 'any' is, and whether your ULDCs, if you change the word 'code' to 'regulation, does it just go away" is useless, Goltzené said. "If I change the name of a pig to 'chicken,' does it become a chicken? No, it remains a pig. If it's a code, it's a code. We called it that for a reason."
Goltzené said he thought the real issue was what the council thinks its relationship to agriculture should be. "If we say it's exempt from the ULDCs, done deal," Goltzené said. "If we want to roll the dice and have the attorney general say, 'any' means 'any,' and we can't do anything, then that's what it's going to be. Personally, I think we ought to just say no, it's exempt, and that's how it goes, and then we don't have to deal with those issues. We have that within our power tonight to do that."
Councilman Ron Jarriel said he thought there should be setbacks for certain things, such as corrals. "I wouldn't say let people do anything they want to," he said. "If you allow them to do anything they want to, it doesn't matter whether the neighbors care about it or not."
Goltzené said that under bona fide agriculture, neighbors have up to a year to complain about any aspects of the operation or any changes. "I really have faith that we're going to get an opinion that's going to be far-reaching, so if you really want to go there, I'm OK with it, but I think we could make it much simpler," he said.
Mayor Dave Browning said he thought Loxahatchee Groves is a unique community with its combination of agricultural and residential uses. "It's a balance of the two, and I agree with Ron [Jarriel], to put corrals or cages right on the fence line against your neighbor, I think those are the things that should be set back," he said.
A pasture would be different, with horses and other livestock able to come right up to the fence. "I want ag to succeed, but at the same time I want everybody to be good neighbors and do practical things," Browning said.
Browning said he would have a problem with no regulation on ag uses. "That's a little scary," he said. "We have to protect both."
Cirullo said the original goal of his letter was to get clarification on specific items to the legislative amendments on the enforcement of land development regulations. "I think it's reasonably viewed by folks as saying, 'You can't apply that rule to me because I'm ag,'" Cirullo said, pointing out that the word "code" is not defined. "There's multiple interpretations."
Rockett said he would rather ask for an opinion on the specific questions that Cirullo was concerned with than broaden it with multiple questions. "Let's get as specific an answer to that question, and if we chose to follow up, we can always go that route," he said.
Resident Howard Voren asked why, with all the agricultural communities in the state, was Loxahatchee Groves the one asking for opinions from the attorney general that might restrict agriculture? "This doesn't make sense for a community that supposedly is pro-agriculture," Voren said.
Resident Todd McLendon said he thought that agricultural uses were under attack. "We're an agricultural community; act like it," he said. "The problem is that more and more residential people are moving here who don't have a nickel in agriculture, and those are the people who are complaining against their neighbors."
Rockett made a motion to compose a letter to the attorney general asking for clarification. It carried 3-2, with Jarriel and Goltzené opposed. Cirullo said he would prepare the letter and present it for council for approval.