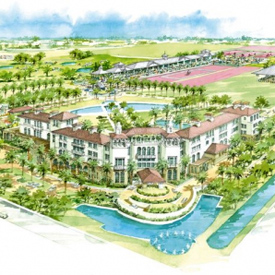 It will be at least another month before a settlement is reached between Wellington and representatives of the Equestrian Village project after members of the Wellington Village Council postponed responding to a settlement offer Tuesday.
At the Oct. 23 meeting, council members also voted to clarify rules regarding the use of the property after concerns that some regulations had been violated.
In August, council members agreed to revoke several suspensions on the property, located at the corner of South Shore Blvd. and Pierson Road, allowing the Global Dressage Festival to start again in November.
Before this week's meeting, the council met in a closed session to discuss a settlement offer put forward by the site's developers.
Village Attorney Jeff Kurtz said that his understanding of the attorney-client session was that council members hoped to defer responding to the settlement while staff works on a possible solution.
"We will direct staff to come up with and look at design solutions to the litigation issues for the Equestrian Village site plan," he said. "My understanding is that we would defer a response to the settlement offer until you have had time to look at design solutions your staff has come up with, and then there might be the opportunity for a counterproposal."
Councilman John Greene said he thought the public should be given at least "a broad overview of the feeling or intent of what this council is trying to achieve."
But Kurtz said he did not think that was appropriate. "I do not think it makes sense to discuss anything we discussed in the shade session," he said. "We are just now forming a response. My understanding was that you wanted to have the staff come up with some solutions. It will be brought back to you at your attorney-client session on Nov. 13."
But Greene worried that the public might have concerns.
"I don't want people to be scratching their heads wondering if we've made progress, or if we're going backward," he said. "I am hoping that we're making progress."
Vice Mayor Howard Coates tried to clarify the matter for the public.
"The reason we are deferring tonight is that we are hopeful that we will be able to meaningfully respond to the proposal, possibly by proposing our own settlement," he said.
Councilwoman Anne Gerwig agreed. "We don't want to reveal all our strategy," she said.
Council members also discussed the terms surrounding the use of the Equestrian Village property after Wellington granted temporary certificates of completion and occupancy for the site in October. "Staff gave a warning notice to [the site] with regard to stabling activities that occurred a week and a half ago," Kurtz said.
Kurtz then clarified the regulations for the site.
"No activities, other than maintenance and preparation… are to occur prior to Nov. 1," he said. "We wanted to eliminate the ambiguity, and they will be given three strikes from this point forward."
Greene said he was concerned that the stipulations were not made clear. "I don't want to get in the situation where staff gives an applicant the right to do something, then we send out code enforcement and it comes back to the council and we're made to look like the bad guys," he said.
But Kurtz said that staff was unaware they planned to use the site for stabling before the show season began.
"There was never a request or indication that they intended to use the facilities for stabling prior to Nov. 1," he said.
Council members disagreed on whether a violation had occurred but agreed to wipe the slate clean, removing violations.
"It's not clear that there has been any violation," Coates said. "I don't have a problem at all clarifying what can and can't be done between now and Nov. 1, but my view is that we should determine no violation has occurred and go forth and clarify so we don't end up back where we are tonight."
But Councilman Matt Willhite said that it had been clear.
"It's any activities on that property between Nov. 1 and April 30," he said. "It's anything that goes on at the facility, not just the dressage festival."
Council members voted unanimously to direct staff to clarify the rules and reset the violations.
ABOVE: An artistic rendering of the proposed Equestrian Village project.