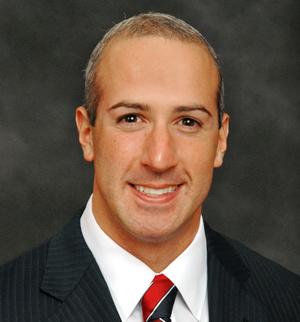 After four years in the legislature, State Rep. Joseph Abruzzo (D-District 85) is seeking a promotion, running for the newly drawn State Senate District 25 seat on a platform that focuses on his pro-business record.
Abruzzo faces Republican Melanie Peterson on Nov. 6 for a seat that covers all of the western communities, spanning from Palm Beach Gardens in the north to western Boca Raton in the south, also taking in the Glades.
Abruzzo moved to Palm Beach County as a teenager to attend Lynn University, where he served as student body president. "I was always very active in the community," he said. "I won the humanitarian award from the board of trustees at Lynn upon graduation."
He then went to work for an international marketing company and became the youngest executive on staff. He joined the U.S. Coast Guard Reserve, eventually becoming a port security specialist. He is still a reservist, completing his eighth and final year, with plans to reenlist.
At age 28, Abruzzo won a seat in the legislature in 2008, securing re-election in 2010.
Abruzzo said he has worked hard representing the western communities in Tallahassee. "There's a saying here in Wellington: You're either a workhorse or a show horse," he said. "I went to Tallahassee to be a workhorse. It was very important to me to pass good laws for our community and bring home funds to the district, as well as have incredible community outreach and service from our district office. I believe we accomplished all three goals."
Abruzzo currently works for the law firm Weiss, Handler, Angelos & Cornwell as a public relations and public policy consultant. He also does work for nonprofit organizations trying to secure grants.
In his time in the legislature, Abruzzo has seen 20 bills he sponsored become law, some inspired by local people. They include Nicole's Law, named in memory of young Acreage rider Nicole Hornstein, which requires children 16 or younger to wear helmets while riding horseback in public areas, and the Ivonne Rodriguez and Victoria McCullough Horse Protection Act, which protects horses from illegal slaughter.
"Florida became the first state in the union to make horse slaughter a felony," he said of the law, which also protects horses from abuse, abandonment or neglect. "Overall, it was a comprehensive bill hailed by the animal rights community."
Another top accomplishment was sponsoring the bipartisan Silver Alert law with Republican Sen. Lizbeth Benacquisto. "Anytime you see a Silver Alert — that's when a senior goes missing — the credit really goes to Sheriff Ric Bradshaw because he has returned more seniors from the Silver Alert system than any other law-enforcement agency in the state," Abruzzo said.
He also initiated an effort to set up a fund for military families so that when a soldier is deployed, his or her family will be able to receive some support.
Also benefiting military personnel, Abruzzo was instrumental in legislation passed in 2011 enabling veterans suffering from traumatic brain injury, post-traumatic stress disorder, or drug and alcohol addiction who are convicted of a crime to get treatment.
"If they were convicted of a crime, there was no way for judges to send them to treatment. They would just have to send them straight to jail," he said. "Now judges have the opportunity to have a hearing before sentencing."
Depending upon the seriousness of the crime, a judge could decide to mandate treatment rather than jail.
Abruzzo believes this proven ability to get good laws enacted makes him the best choice for voters in District 25. If elected to the Senate, his top goals include returning money to the district, legislation that would prohibit texting while driving, and enacting a statewide law limiting animal euthanasia.
"I'm very concerned about new drivers who are just learning to drive watching movies and texting on their phone, with distractions in the back seat from their friends," he said.
Some counties already have laws requiring animal shelters to call three certified adoption agencies prior to euthanizing cats and dogs, he said, explaining that counties with that policy euthanize only about 50 percent of the animals that are left with them, whereas counties without the policy euthanize 90 percent. "I'm trying to pass a statewide law that will say that every county has to have this policy in place," he said.
To specifically help Palm Beach County, Abruzzo strongly supports the proposed inland port hub in the Glades area. He also supports an airport in that area. "In the Glades area, it is important to get that inland port done," he said. "The unemployment is devastating."
Part of improving the economy, Abruzzo said, is putting a focus on education.
"For jobs to come here and stay here, you have to have a skilled work force," he said. "Our geographical location will only get us so far. We must invest in improving our public education."
Abruzzo noted that it's predicted the state will have more revenue next year — the first time that has happened since he has been in office — but even if there is another deficit, there is no room for more cuts. "We cannot cut vital services any more when it comes to health services and education," he said.
One way to gain additional revenue would be to reach a better gaming deal with the Seminole Tribe.
"I voted against the Seminole Gaming Compact originally, not because I'm anti-gaming, but because I thought it was such a poor deal for the state," he said. "We gave the Seminoles a monopoly on playing card games for about $150 million a year. They're grossing over $2 billion a year. I said from the get-go we should be getting $500 million. We truly should be getting about $750 million. If you have extra games like roulette and craps, it should be a $1 billion-a-year deal."
Much legislation was passed last year that he disagreed with, but the budget was the worst, Abruzzo said.
"I've voted against the budget every year," he said. "They've been cutting education by billions of dollars. They made a big PR stunt that they were improving education by a billion dollars. That is really not the case. We're back to the Jeb Bush era of funding education."
Abruzzo also disagrees with raising fees for driver's licenses, tags, registration and court costs to make up for other revenue losses. "I don't want to hit seniors and working-class families," he said. "I consider raising college tuition a hidden tax on families."
Abruzzo said his views sharply differentiate him from his opponent. "I believe we see eye-to-eye on many economic issues. However, when it comes to the social issues, which is the bulk of the legislation we see in Tallahassee, we are at opposite ends of the spectrum," he said. "I am pro-choice, she is pro-life; I am for civil rights, specifically in the gay community, [but] she will not take a position. She stands with Gov. Scott on many issues… I'm on the other side of where Gov. Scott is the majority of the time. I'm a fiscally conservative Democrat, but I am a social liberal. She is a conservative through and through."
Aside from his record in the legislature, Abruzzo is also proud of his work helping constituents. "We're running a positive campaign on the record we have amassed, and our vision for the future," he said. "When it comes to constituent services, we have handled thousands of constituent concerns and issues over the last four years."
He believes voters in District 25 have a clear choice when going to the polls.
"It's coming down to a clear election — do you want somebody with experience and a record and a vision who's a Democrat versus somebody who is running a dirty campaign completely bankrolled by the Republican Party of Florida," Abruzzo said.