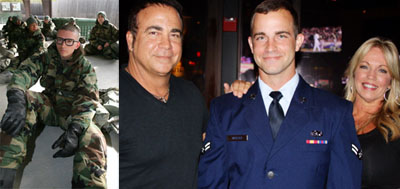 Having your children head off to serve their country can be emotionally challenging for parents. However, for Generations: A Hair Salon owners Anthony Gutilla and Monica Hoffman, seeing the determination in each of their sons' eyes overpowered any personal feelings they have.
Gutilla and Hoffman have been business partners for three and a half years. They have watched one another's sons grow from adolescent boys to men heading off to serve their country.
Gutilla's son Michael Meister Gutilla worked as a stylist at the salon before joining the U.S. Air Force. "We were more of acquaintances than friends because our parents were co-owners," recalled Hoffman's son Francisco De Sousa.
Now the relationship has changed due to a chance meeting at the local Air Force recruitment office. "We ran into each other there, and that's how we found out we were both going into the Air Force," De Sousa said.
That was a year ago, and now Francisco is serving at Dover Air Force base in Delaware, while Michael recently completed training at Lackland Air Force Base in San Antonio, Texas.
Gutilla remembers when his son first told him he wanted to enlist. "He came to me one day and said, 'Dad, I want to serve,'" he said.
In the beginning, it was a little hard for Gutilla. "I always thought I would be working with him because I opened this salon for my children," he said. "That's why it's named Generations. We come from a family of either hairdressers or servicemen. In our family history, people either did one or the other."
Gutilla knew that either path made sense for his son. "He was in the salon business with me for a couple of years and felt that he wasn't being challenged enough," he said. "He knew family members who had served and heard the stories, and realized that was what he really wanted to do."
One of the influences for Michael was Gutilla's cousin James Symonds, who was the captain of the USS Ronald Reagan. "He is a retired admiral and is actually a part of American history," Gutilla said. "That picture of him presenting Nancy Reagan the flag during [President Ronald Reagan's] funeral is protocol for the captain of the ship."
Gutilla has tried to be as supportive as possible. "As a parent, I needed to put myself on the back burner and support his decision," he said. "Just let him fly and do his thing, which is not an easy thing for a parent."
Michael inspired his older brother Anthony to join the Air Force as well. "He sees the pride that Michael feels and the praise he is getting, and wants the same feeling," Gutilla said.
The emotion and pride were strong on the day of Michael's recent basic training graduation. "He went in as a boy and to see him on graduation day as a man was unbelievable," Gutilla said. "His behavior was so respectful to his commander and to see him after eight and a half weeks was very moving, and any parent would be overwhelmed by that."
Hoffman recalls when she found out both her son and Gutilla's son were going into the Air Force. "Anthony and I were just talking one day at the salon, and he said, 'My son is with a recruiter because he's going into the Air Force,' and I said, 'Oh my god, my son is doing the same thing," she said.
Before that, they had no idea that both their children were going to follow the same path. "It was just a coincidence and a big surprise for both of us," Hoffman said.
Hoffman knew her son would eventually end up serving his country. "In high school, he was in the ROTC, and he always said he wanted to go into the Air Force," she said.
After high school, Francisco attended Palm Beach State College and studied criminal justice. "When he completed his associate's degree, he said, 'Mom, I'm ready, I'm going into the Air Force,'" Hoffman said.
Hoffman believes that her son, now 24, is ready for the experience. "He has matured a lot since being in there," she said. "And it makes me very proud knowing what he is doing for our country."
If Francisco ever gets deployed, Hoffman will be praying for the best. "It's something we have thought about, and if he has to go, he has to go, and I just hope that he will be fine," she said. "But I can't let that upset me because this is something that he wants to do. As a parent, we have to encourage them and let them do it."
Hoffman and her son originally are from Venezuela. "We have been here for 10 years now, and Francisco's biological father is still there," she said. "But his stepdad and brothers who are here support him and are very proud."
He has become a role model to his younger brothers. "My other son wants to go for criminal justice in college, and now he is actually in the process of enrolling in the National Guard," Hoffman said.
With continued determination, Francisco has plans to become an officer. "He has already enrolled in the university and is working on achieving that goal," Hoffman said.
ABOVE: (Left) Airman First Class Francisco De Sousa on the base. (Right) Michael Meister Gutilla (center) with his father, Generations co-owner Anthony Gutilla, and mother Robin Dadamo.