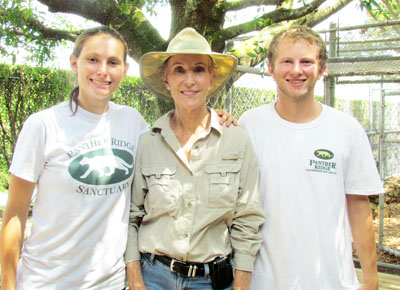 Twelve volunteers from the Home Depot Foundation's Team Depot gave up hours of their day off on Thursday, Sept. 27 to assist in renovations at the Panther Ridge Conservation Center in Wellington.
The 13-year-old exotic cat sanctuary developed water damage after Tropical Storm Isaac dropped more than 13 inches of rain on the western communities and over-flooded canals.
VIDEO: Home Depot At Panther Ridge
The water reached and filled many of the cat cages with up to 3 feet of water. Many of the cats were relocated to other cages on the property until their cages are renovated.
This was extremely devastating for founder and Executive Director Judy Berens. "Most of the cages were under water at least partially," she said. "We had to remove all of the cats from their enclosures and keep them in large rolling cages for six days."
A few months prior to Isaac, Berens wrote a letter to Team Depot asking for assistance. "I told them what my needs were and how much I needed the help," she said.
Berens was glad they agreed to assist in some renovations. "Since most of the things I have here that I used to build everything originally was from Home Depot, they agreed to help me out in refreshing a lot of things," she said. "They realized it was all the more needed after Isaac, so they decided to come out today."
Berens first heard about Team Depot during one of her frequent visits to the home improvement store. "They have a poster that shows all of the community service projects they have completed," she said. "And I thought to myself, 'Why not me?'"
After a lengthy process of talking to the right people, Team Depot coordinators from the Home Depot at Southern Blvd. and State Road 7 came out to the conservatory to assess the amount of work needed to be done and decided it was a capable project.
Team Depot is a volunteer-based project through the Home Depot Foundation, to which Home Depot donates resources, from tools to employees to assist in community service projects.
The volunteers sent to Panther Ridge worked on rebuilding tree houses and decks, and improving walkways.
Berens saw the enthusiasm in the volunteers' faces. "They are very proud to come out and help the people who are their constituents," she said.
Team Depot volunteers like Grace Huber were hard at work from as early as 8 a.m. "I just love it out here," she said. "I think it's great what [Berens has] done. I have heard about the conservatory before, but now that I'm actually out here, it's unbelievable to hear the stories, and now I can pass them on to others."
Berens has always been an exotic cat lover and started out by having one small exotic cat as a pet. "Over the years, people would call me over to take a look at their cats," she said. "And if I would take a look at them, chances were they would be going home with me."
At one point after opening the conservatory, Berens had as many as 24 exotic cats at once. "It just grew and grew and grew," she said, "because I was good at taking care of cats, and they're a lot of work for most people."
Keeping exotic cats such as cheetahs, panthers and ocelots as pets is an extremely difficult task that should be left to an experienced professional. Many people can't handle them, and these big cats often end up abandoned.
Berens could not stand to see this happen and realized that she needed to start a conservatory to create a safe place for exotic cats — some place where they can receive the proper amount of food, nutrition, medical attention, large open space and a better standard of life.
"If you don't have the time and the knowledge to take care of these cats, then they're not for you," Berens said. "I even have a few cats here that were confiscated from people who did not have licenses, and we give them a permanent comfy home."
Panther Ridge Conservation Center currently has 14 cats. "Many are adopted, which does not mean they get to take them home," Berens said. "It just means they are responsible for the upkeep of the animal."
Panther Ridge Conservation Center is located at 14755 Palm Beach Point Blvd. in Wellington. For more information, visit www.pantherridgesanctuary.org or call (561) 795-8914.
ABOVE: Panther Ridge Conservation Center founder and Executive Director Judy Berens (center) with staff members Ashley Flaig and Eric Alexander.