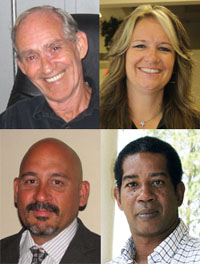 From now until the election, the Town-Crier will ask questions each week to the four Indian Trail Improvement District Board of Supervisors Seat 2 and Seat 4 candidates. This week's question: What are your thoughts regarding paved versus unpaved roads in The Acreage? What criteria would you use in deciding which roads need to be improved? How should such projects be funded?
SEAT 4 CANDIDATES
Ken Hendrick
My thoughts on paved or unpaved roads: Keep in mind this is an equestrian area, and we do not want to make it into a city. The heavily traveled roads should be paved, also the main arteries that are heavily traveled. I can only give you my feelings on this matter as it is really up to the residents. If a dirt road has the proper stone in place and is maintained correctly, it would be just like a paved road. I personally would prefer the quarter-mile roads to be dirt roads, so the horses have someplace to walk, but that would be up to residents.
The roads that need improving are the main roads. You cannot just put down asphalt and do nothing with the edges of the road. There should be stone on the edge of the asphalt, so if a car goes off the asphalt, it will not be breaking down the edges; this is only common sense. I have seen many of the roads that are paved that have almost no crown in the middle for the rain to drain to the sides. Also, the thickness of the asphalt on some of these roads is very thin, and we will have to go back and redo the job all over again because of it not being done correctly the first time. This is a waste of money and should have proper supervision when the job is being done to make sure we are getting what we are paying for.
Michelle Damone
The R2 road paving program in the early 2000s paved the majority of the "named" roads. However, ITID has some missing links to some of these roads or in areas where two major roads intersect. Our board also made it a policy where paved roads are to be constructed, sidewalks would be a priority as to provide safety for our children and residents.
If the community desires additional paving, it would require a plan of reclamation, also known as R3, to construct those missing links. An R3 plan would cost millions, but it could be constructed over several years or decades. Some of ITID's bonds are almost completely paid off, and if the community desires additional paving, the R3 could be paid for by new bonds.
During these hard economic times, I don't believe the community is ready for this. However, it's worth a discussion and some future financial planning. I also believe on the small quarter-mile dirt roads that it's up to the majority of property owners who reside on the street to decide. I'd like to see the old MSTU program resurrected with the county at 50/50 to offer to our residents.
SEAT 2 CANDIDATES
Carlos Enriquez
We are an equestrian community, so we must always maintain a standard that takes into consideration its requirements. As we all know, horses and cars don't mix. So in setting policies for roads that impact both, we must always look at the needs of both.
Criteria for the enhancement of roads provides set standards that assure the requirements that taxpayers' expectations are met. The current ITID R2 plan of improvement consisted of paving several collector roads throughout the district with the purpose of bringing all residents within a quarter-mile of a paved road. Along with that, our current policy requires that any paved road have a sidewalk included in the project. Beyond that, we move forward with an R3 plan of improvement when the need arises and our community wants it. A comprehensive study of future demands of our roads must be completed and will be key in determining any future paving. With paved roads comes speeding, so part of our policies should provide for traffic-calming also.
I am a firm believer in "pay as you go" and living within our means. So any future paving or enhancement should be done with funds that we have. I would not be in favor of borrowing money toward these projects. With a combination of efficiencies and doing more with what we have, I strongly believe we can achieve these goals. Currently, the rock formulation we are using on unpaved roads was necessitated by the desire to achieve a better-maintained end product. The special ITID blend reduces the amount of large aggregate to better suit the district's needs. It produces a better, more-maintainable finished road rock surface for our residents.
Gary Dunkley
The county used to help residents requesting paving by paying 50 percent of the costs through the MSTU program. Now residents requesting paving do not have that luxury. They have to bear the burden 100 percent, so the requests have dwindled. Since we want to keep a rural character and encourage our equestrian trails, paving should always be left up to the residents. When the costs are presented, all residents of any paving project should be considered. I think if they have 100 percent consensus, and everyone is willing to pay, then so be it. In this economy, putting a further burden on any resident is unnecessary.
ITID has a budget, which if utilized correctly, should stabilize our roads with grading and shell rock. This is one area where ITID has been failing — the budgeting for road maintenance. As a board member, I will encourage board policy where stabilizing and maintaining our roads, trails and culverts is a priority. Had the board directed staff to inspect the integrity of our paved and shell-rocked roads on a regular basis, the situation with the flooding and collapse on 140th might have been avoided. Prevention costs much less than disaster. ITID's core mission needs to be addressed and followed. Hopefully, as a board member I can encourage the changes needed for cost savings and better service for the taxpayers.