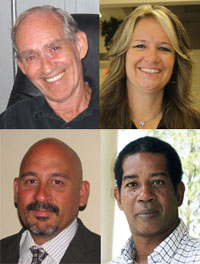 From now until the election, the Town-Crier will ask questions each week to the four Indian Trail Improvement District Board of Supervisors Seat 2 and Seat 4 candidates. This week's question: How would you characterize the Indian Trail Improvement District's recreation policy? Does more or less money need to be spent on parks? Should ITID run its own recreation programs or should all recreation programs be run through outside service providers?
SEAT 2 CANDIDATES
Gary Dunkley
Indian Trail Improvement District's recreational policy, like all things, needs hands-on oversight and occasional policy updates. Our parks are beautiful and add to the overall character of our community. Some parks are underutilized since the focus of the current board has been Acreage Community Park. I think we need to focus on all of our parks equally. Some are perfect for small community activities such as green markets and community events.
The Acreage is a vast 110 square miles, and I think all of our parks could be used in very different manners to bring each area events that all of our residents could enjoy. Due to our large land area, I would like to see events spread out throughout our entire community bringing our residents closer together.
Our sports programs for our children should have the best oversight possible for a safe, happy and enjoyable experience.
Our parks department does a very good job coordinating with the different schools and sport programs. I am sure that our community will give us direction and suggestions on how to make it better if we start encouraging open dialogue with all residents instead of a survey that only a few residents know about and reply to. ITID needs to do more outreach, informing the residents of what we do and how we work. This will be the biggest change that I would like to see and encourage in all areas of why ITID exists.
Carlos Enriquez
The Indian Trail Improvement District's current recreational policy serves the residents of The Acreage well. Our current provider's agreement with the Acreage Athletic League, I feel, provides the perfect balance for our community children's recreational needs. From football to soccer to baseball, the partnership that has been forged from the early days of the program has touched so many of our children's lives. The life lessons that are instilled through sports and the memories created are invaluable. That's why I strongly support ITID's continued investment in our parks system. Our current funding of the parks system, I feel, is adequate. I also feel that we can work with community business partners to supplement funding for the parks through creative funding opportunities.
We have one of the most diverse and envied park systems in Palm Beach County. Nicole Hornstein Equestrian Park provides a unique equestrian flair right in the heart of our community. This jewel is within a 15-minute drive from anywhere in The Acreage. Kidscape Park, with its renovation, provides among other enhancements, an ADA-accessible playground for disabled children. Temple Park with its two sand volleyball courts brings beach volleyball right to the center of The Acreage.
Our parks system is the culmination of years of hard work and visioning from previous boards, and it's up to future boards to keep this vision alive. That's why I'm committed to keeping it alive. A dozen donuts for breakfast for the family before the Saturday morning game: $3.50. Sodas and hotdogs at the concession stand: $10. Watching your son or daughter make their first touchdown or homerun: priceless!
SEAT 4 CANDIDATES
Michelle Damone
I am very proud of the eight neighborhood public parks, plus our large Acreage Community Park that serves 39,000 residents of The Acreage. This includes a unique public equestrian park that does not require membership.
Currently, ITID provides the facilities, and we work with wonderful volunteer organizations like the Acreage Athletic League, the Acreage Horseman's Association, AYSO and others to provide sports and activities. Moving forward, if the community center is completed, it will require some additional staff, but I envision ITID working with other organizations. I see ITID working with other providers to serve our facility with additional activities and recreation. These types of relationships can offset costs to the district.
When the neighborhood parks were completed, they became an asset and added to our home values. If the community center is completed, it will also enhance our community, adding again to our home values. As tight as we will be with the budget for the community center, it may cost our community a few dollars. It will be my goal to make it the least financially impactful to our community while providing one of the greatest assets to our community, similar to the new library.
Ken Hendrick
When asked if more or less money needs to be spent on parks, my answer would be yes! I feel we should move forward on the water park but hold off on the community center, at least for now. If asked would I support the community center, I would say yes, but not right now. If the canals are to be dug back to their original depth, that would take time and money. If we spend it all on the community center, it would leave us with not enough money to dig the canals, leaving us vulnerable to another flood.
I was asked if ITID should run its own recreation programs or if it should be run by outside service providers. I do not believe that we have the manpower to run a high-profile recreation program; maybe they can on weekends for smaller activities. I do believe that an outside source could do a better job in putting on a successful event. I would prefer that the outside source be from someone who lives in The Acreage and not outside The Acreage. I've said it before, and I will say it again: We need to keep the money in The Acreage as much as possible.