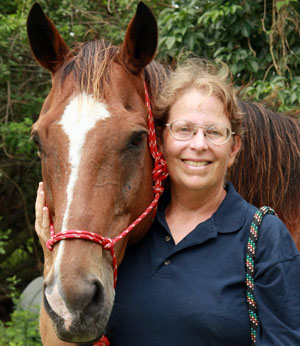 TAILS FROM THE TRAILS
Susan the Saddle Diva didn't think twice when someone called wanting to sell her some saddles. That's what she does, after all — buy and sell used saddles and tack.
"It was Thursday night, July 12," she recalled. "The guy sounded legit. He said he'd built a deck for someone and received six saddles as payment instead of cash, so he wanted to sell me the saddles. I said sure, come on down. He lived up in Stuart, and apparently got my name and number from the Red Barn."
But Susan quickly became suspicious.
"After I hung up, I just happened to browse the message board on the Wellington-WEF web site and spotted an alert about some stolen saddles Ingrid Tasken had cross-posted from craigslist," she continued. "I contacted Christina, the owner. She described the saddles, which had some distinctive marks, and e-mailed me a copy of a flier, which included pictures."
What's more, she lived in Stuart, where the guy had called from. On July 10, a thief had clipped through Christina's electric fence and taken one English and five western saddles from her tack room. "I had a strong suspicion they were the same saddles," Susan said, so she printed a copy of her flier.
When the man arrived with a friend and unloaded the saddles, they were clearly the ones in the flier. "I noted the vehicle's license plate, make and model," Susan said. "He sang a tale of woe again about getting stiffed for the job and getting paid in saddles. I showed him the flier and told him I knew they were stolen."
Confronted with that, Susan said, the man "became all apologetic and denied knowing anything about it. 'Oh wow, I don't want anything to do with these saddles. That's terrible,' he said. I told him I'd be giving the saddles back to the owner, he agreed that was the right thing to do, and then he and his buddy left."
So she called the owner, and when Christina came down, she was ecstatic. "The thing is, saddles aren't just a piece of equipment," Susan said. "Many of them are tied to memories of specific horses or places. Stealing a special saddle is like ripping out someone's heart. I was thrilled I'd been able to get her saddles back for her so quickly. Later, I got a call from a Martin County detective, who was looking into the case. I gave him all the info. 'Thanks for doing all my work for me,' he said."
Christina was very grateful. "One was the first saddle I ever got when I got my first horse," she recalled. "It's like a piece of my life. From now on, I'm keeping them all locked up. Unfortunately, you can't trust everyone. The alleged thief is someone who did some work on the property. Be careful who you let around your horses and equipment. I'm really happy the horse community pulled together to help me."
"You've got to protect your tack," Susan agreed. "Always, always, always keep it in your house, not in a tack room where it's so vulnerable. Be wary of strangers. If something does get stolen, call me so I can be on the lookout for it, and post a description on the Wellington-WEF web site message board. Check out craigslist and local pawn shops — by law, they have to hold new items for 30 days. Engrave an identifying mark on your stuff and take detailed pictures."
Site co-owner Jill Townsend was thrilled that the Wellington-WEF web site helped recover the stolen saddles.
"It's a great community resource, with lots of interesting and far-reaching topics. We're there for the horse community, and people's concerns get good coverage," she said. "Anytime anything goes missing, post a message in the General Information section."
Another local equestrian ran into a slightly different problem and is still missing his tack. Three years ago, Brian Payne leased a barn in Caloosa and started a boarding stable and therapeutic riding and driving nonprofit group.
"It got to be too much for me; I couldn't do it anymore," Brian said. "Someone wanted to keep the whole thing going, and the property owner agreed to let them take over my lease. I arranged for them to keep using my five horses and all the equipment. Then I started hearing that someone was allegedly selling my stuff. I went back to check, and all my equipment was gone. Worst of all, someone was trying to sell my horses."
He soon found out that getting them back would not be easy. "I talked to an attorney and the cops. Unbelievably, I couldn't prove that I owned the horses," Brian conceded.
He even showed them Coggins tests and a sworn statement from his vet. "They said all that proved was that I did own them at some time," Bryan added, saying that left him wondering how he could prove they were still his property. "The cops, and I talked to six different officers, all said this was a civil matter. I did go back and get my horses, but I'm still missing 11 saddles, some harnesses and a manure spreader. I understand other people have had similar problems. I think it's crazy, having to prove you own your own horses."
It may be crazy, but that's the law. Palm Beach County Sheriff's Office Detective Eric Davis says that a bill of sale is necessary to prove ownership. "If your property is stolen, report it, including a description, any identifying marks and photos," he said. "We'll open a case and investigate."
As general advice, he said: "When you buy something, always get a receipt. In the case of a horse, just because you care for it doesn't mean you own it. If you can't prove you bought it, you can't prove you own it. That bill of sale is very important."
Not sure about bills of sale and boarding contracts? Check out the horse legal forms at www.equine.com. Susan the Saddle Diva can be reached at (561) 204-1421. Visit Wellington-WEF at www.wellington-wef.com.