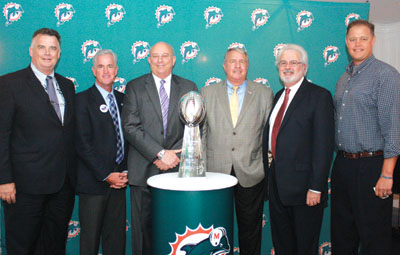 Wellington Mayor Bob Margolis tackled concerns over the medical arts district and other issues during his "State of the Village" address Wednesday before members of the Wellington Chamber of Commerce.
The monthly luncheon, held at the Wanderers Club, also featured appearances from 21st Congressional District candidates U.S. Rep. Ted Deutch and Cesar Henao, as well as an exhibition of the 1972 Miami Dolphins Vince Lombardi trophy.
"The medical arts district was developed with the intentions of all the property owners giving their approval to be added to the Village of Wellington," Margolis told chamber members. "The property owners agreed to do that, if Wellington would go out into the medical community and bring medical businesses here."
But issues with one of the larger landowners stalled the project, he said.
"The issue is that one of the landowners, a company based out of Ireland that owns most of the property, refused to come into Wellington," Margolis said. "Until they do so, we cannot move forward with the medical arts district at all."
Margolis said that more problems arose when medical businesses pulled out of plans to move to the area.
"There were a number of businesses that asked to be here," he said. "But at the end of the day, they didn't want to be here. It's not that they didn't think Wellington would be right for medical arts."
He pointed to the Lake Erie College of Osteopathic Medicine, which had showed interest in the area, along with other businesses.
"The only way we could do that would be to make sure that LECOM has enough residents in the residency program. I'm told it's between 50 and 75 people, and they only had 25 people. They're not willing to come down here until they know it's feasible."
Now, Margolis said, it has caused problems with other landowners. "The other applicants are saying, 'If they don't want to do it, we don't want to do it,'" he said. "So that is where we are right now. We're in a tug-of-war."
Margolis said that shortly after he took office as mayor, he met with the Business Development Board and the property owners.
"We started moving forward with some really useful tools and goals," he said.
But Margolis said he spoke with representatives of the board who told him Wellington wasn't offering any incentives for businesses to come to the area.
"[They] said we need to do a better job of sitting down and being able to give companies and businesses incentives," Margolis explained. "They don't necessarily want a reduction in taxes. They want something concrete."
Margolis said he encouraged the board to work with the chambers of commerce to sit down with Wellington and come up with incentives.
In speaking with doctors at Wellington Regional Medical Center, Margolis said that few were even aware of the medical arts district concept. "They told me they didn't even know they had a medical arts district," he said.
Nevertheless, Margolis said that Wellington is still working to come to an agreement.
He said that although the current council has only been together for six months, they have worked to benefit the residents. For example, he noted that the council recently reduced the tax rate to 2.47 mills.
Margolis also gave praise to council members in the past who helped to slash the budget and manage funds while keeping Wellington afloat. "They had to do a lot with a lot less," he said. "They were able to do it while providing the same level of services."
As for the future, Margolis said that Wellington would be focusing on crime prevention as the equestrian season begins, though already there has been a decrease in property crime.
Ultimately, he said council members are looking forward to working for Wellington and that he hopes to return next year with more good news for chamber members.
"[The] council wants to leave a legacy and help make Wellington a better place," he said.
ABOVE: Luncheon sponsor Victor Connor, Councilman John Greene, Mayor Bob Margolis, Mike Nelson, Chamber President Alec Domb and Dr. Randy Laurich gather around the Lombardi trophy.