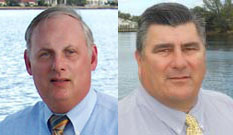 Palm Beach Soil and Water Conservation District Vice Chair Drew Martin (left) faces a challenge from Stephen Jara (right) as he seeks re-election Nov. 6.
Florida's soil and water conservation districts were established in 1937 to assist and advise individuals, groups and local governments with conserving and preserving natural resources. There are 63 in the state.
Palm Beach County's board has four members, each elected in a nonpartisan, countywide election. Board members receive no salary for the position and are elected to four-year terms. Martin, the Seat 2 incumbent, is seeking his second term.
Martin, 58, was first elected in 2008. He lives in Lake Worth with his wife. For two decades prior, he had been known as an environmental activist. From 2007 to 2008, he co-chaired the Everglades Coalition.
"That's a coalition of 57 environmental groups with millions of members, all actively trying to restore and preserve the Everglades," he said.
Martin sat as the conservation chairman of the Loxahatchee Group of the Sierra Club, which represents Palm Beach, Martin and St. Lucie counties, and also volunteered with the club's Everglades, water quality and waste minimization committees.
In 2010, he was awarded the Environmental Champion Award from John D. MacArthur Beach State Park and won the Everglades Coalition's Kabler Award in 2012 for his work preserving the Everglades.
Martin holds a bachelor's degree in history from the University of California at Davis, a master's degree in international management from the American Graduate School of International Management in Arizona and a Certificate of Business Data Processing from UC Berkeley.
Martin said he is an active participant at Palm Beach County governmental meetings, especially those dealing with soil and water conservation.
"I try to stay abreast of the issues in the county," he said. "I've taken a lot of time to educate myself on soil and water issues. I've been very active with the staff of the Solid Waste Authority."
Among his top accomplishments since taking office have been balancing the district's budget and hosting successful Envirothons.
"I have a financial background, which has helped me balance the budget," he said.
Each year, the district hosts the Palm Beach County Envirothon, an educational program that puts high school students in teams and pits them against each other to solve questions about environmental issues. "It's a great event," Martin said. "We've had a lot of success with it. One of our high school teams even competed in the national tournament."
Martin said that if re-elected, he hopes to continue this program and others.
"I want to continue the successful programs we have," he said. "I also want to get the district more involved in water-related issues."
Although the district has no direct control over water usage, Martin said he believes the board has a role to play in discussions of water management and best practices.
"The board is not a permitting authority," he said. "Drainage issues go through the South Florida Water Management District, so I can't make promises that I can change things. But I can help to encourage better policies."
Speaking specifically of issues in The Acreage regarding flooding, Martin said that his board can promote good use of land to handle water. "A lot of the reasons these flooding events happen is because of development," he said. "We promote the use of agricultural land. Agricultural land can hold more water than developed land."
He said that homeowners can also help. "We encourage people to maintain ponds on their properties," Martin said. "Ponds absorb runoff water, and if they're removed, the property is more likely to flood."
Ultimately, Martin said that voters should choose him because he is an activist who will advocate for better environmental policies. "I have been an advocate for the environment for 20 years," he said. "I think it's important to have an advocate on the board."
Jara, 48, is a longtime resident and real-estate broker with a strong background in agriculture. He lives in Boynton Beach with his wife and two children.
When Jara was a boy, his father owned a landscape and sprinkler business along with a tree nursery, and he grew up working with his father.
Jara holds a bachelor's degree in hospitality management from Florida State University. He has worked at many prestigious country clubs. Currently, he is the president and managing broker of Pristine Properties, as well as the owner of a cattle ranch and tree farm. "We specialize in agricultural real estate," Jara said.
He noted that his company is a participant of Cabela's Trophy Properties, a distinction given to select property brokers from the hunting and wildlife supplies corporation popular in the Midwest.
Jara has a GREEN designation from the National Association of Realtors. He has served as president-elect of the Okeechobee County Board of Realtors and sits on several boards and committees, including the Coastal Conservation Association South Palm Beach and the Snook & Gamefish Foundation.
"I'm from a second-generation agricultural family," he said. "I was born and raised here. This commission is about helping folks, mostly agriculture businesses, family businesses and landowners. It's about common sense, not about bringing special interests or issues not pertaining to soil and water."
Jara said that he wanted to run because of his interest in agriculture. "The conservation district appealed to me," he said. "With roots in agriculture, it's something I find important. I want to assist landowners in the county on how to best utilize their natural resources."
If elected, Jara said he would focus on education. "It's really about teaching how to best use our water systems so we don't erode soil and overuse water," he said. "This is an opportunity for me to give my expertise in agriculture back to these folks."
He said that he would be a new set of eyes and ears and could hopefully help, in an advisory capacity, with some of the county's water woes, notably those with flooding in The Acreage.
"I would hope that someone would recognize me as having an agricultural background and understand the necessities of best management practices," Jara said. "I believe the water management districts have done their best to prevent flooding. I would do anything I could do to help in the situation. I think it's very important."
He said that voters should choose him because of his deep knowledge of the community.
"I am very relatable," Jara said. "I hope voters recognize my sincere love for Palm Beach County and its natural resources. Coupled with my agricultural background, I think I'm a perfect fit."