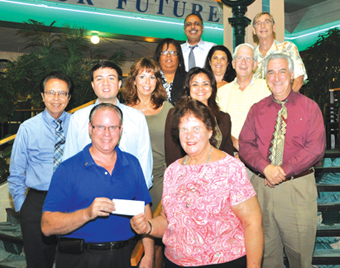 During a board meeting Monday, Oct. 1, My Brother's/Sister's Keeper Charitable Trust presented Beverly Perham of Back to Basics with a check for $2,500. The money will be used for the Back to Basics Angel Christmas Gift program, which provides more than 5,000 Palm Beach County underprivileged children with sneakers, socks, underwear and a small gift.
Schools and agencies provide cards with names and sizes of the children for Back to Basics, and the cards are then given out to churches, businesses, clubs, etc. The requests are filled, and then the items are returned to Perham, who makes sure each child receives the basics of sneakers, socks and underwear with the help of her volunteers.
There are other programs throughout the year, such as the Angel Uniform Program, which provides 10,000 school uniforms for selected elementary school children every August.
For more on the Back to Basics Angel Program, or to learn how to donate or volunteer, contact Perham at (561) 795-7766 or backtobasics@bellsouth.net.
ABOVE: Eric Gordon presents a check to Back to Basics' Beverly Perham while other My Brother's/Sister's Keeper board members look on.