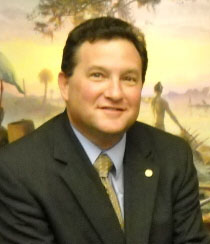 State Rep. Mark Pafford believes that his years of fighting for the powerless and protecting his constituents make him the best choice for voters on Nov. 6.
Pafford, a Democrat who has represented District 88 since 2008, is running for the newly drawn District 86 seat. While his current district spans from West Palm Beach to Royal Palm Beach, the new district has more of the western communities, taking in all of Wellington, Royal Palm Beach and Loxahatchee Groves.
Pafford faces a challenge from Republican Tami Donnally. While the district is believed to lean Democratic, this is the first time that Pafford has faced a general election challenge. He was elected in 2008 to a vacant seat without opposition. While he faced a Democratic primary opponent in 2010, he was unopposed during the general election.
Born in Miami-Dade County, Pafford is a lifelong Democrat. He grew up in a family of union pipefitters, attending public school and receiving a bachelor's degree in public administration with a minor in political science from Florida International University in 1988.
He eventually worked as an aide for Congressman Lawrence Smith from 1989-92 after his first 11 months out of college working at a Bennigan's Restaurant. "I was an excellent waiter," he quipped.
In his career, Pafford has worked for various nonprofit organizations, including the Alzheimer's Association, the Area Agency on Aging and the Lord's Place. He has also done consulting work for businesses and other nonprofits.
In office, Pafford has put his focus on strong constituent service. "I tend to listen to constituents who call my office with various personal issues," he said. "That's generally what's most important to me."
That also translates to what he believes is his top accomplishment — "conveying what's important in Tallahassee, where [listening is] not always a priority," he said.
Pafford pays attention to people with concerns about problems such as Medicaid and takes time to testify about preserving land. "I've immersed myself in the job," he said. "I can't say that I've solved Florida's problems, but I think I've represented the people well."
He believes that he is best qualified to represent the people in the new district because he understands its diversity. "You've got 90-year-olds in Century Village, you have Royal Palm Beach, Wellington, Haverhill, unincorporated areas — the diversity in terms of demographics is wide," Pafford said. "You have people who own horses; you have people who literally have water pouring into their homes every time it rains. It's from one end to the other."
He has also lived in all parts of the district — Wellington, Royal Palm Beach and the unincorporated areas. "I know the area well," Pafford said. "I think my experience in Tallahassee helps, in terms of knowing the players and the way the system works, and I think that benefits people here."
Pafford's primary goal if re-elected is "speaking truth to power," which he said he has always done. "You don't get that a lot up there," he said. "Generally speaking, you have a super-majority that for 16 years has controlled the house, the senate and the governor's mansion, and I'm not part of that majority. It doesn't matter if Republicans don't like the idea. There's a handful of people in charge up there."
For this reason, constituent service is the most important thing a legislator can do, he said. "We get thousands of calls from people wanting help, with Medicaid, getting a license, getting an ID," Pafford said, adding that he wants to remain a strong voice for the working person.
The economy remains the top issue. "We've got a state that registers at the bottom of many rankings, yet is one of the least-burdened states," he said. "What you'll hear is taxes are too high and regulations are out of control, and I think we've tried to streamline some of that with small businesses."
On the other hand, the prices of state certifications, such as driver's licenses and vehicle registrations, have risen. "The things that can be very expensive to somebody who is working, those have gone up," he said.
Pafford complained that legislative leaders are being cowardly. "They refuse to talk about moving the state forward and reforming a very, very troubled tax system that cannot support 19 million people," he said.
New sources of revenue are needed, he said, and Pafford suggested aggressive efforts to collect the Internet sales tax, which is not actually new, but a tax the state is simply not collecting. He wants to see a taxation system that is more fair and equitable.
"Twelve years ago, the governor at that time, Jeb Bush, got rid of intangibles taxes," he said. "That shift meant that we've lost arguably between one and a half to two billion dollars annually for the last 12 years. That has had a dramatic effect on Florida's most vulnerable, and it also had an effect on the middle class, who are slipping into the category of poor, and these things aren't talked about. That's a major issue in Tallahassee."
He said one of the best things the legislature could do for central Palm Beach County is to implement the healthcare reforms of the Affordable Care Act. "There are states now that have promoted the fact that they have begun implementing the Affordable Care Act and the exchanges," he said. "They're selling it like we sell tourism. They're selling that relationship in trying to lure new businesses to the states. It's something dramatically different than what this state has done."
Other ways to help central Palm Beach County would be to invest more in research such as at Scripps. "Investing in that type of market structure, where there is a tremendous labor force underneath, helps create a lot more jobs that have salaries good enough to feed a family and put the roof over their head," he said.
Education is another major issue. "Palm Beach County has had a pretty good educational system in place, but that is going to be an issue with the state cutting funds," he said.
Another concern he has is the growing number of seniors on waiting lists to get into assisted-living facilities. "For the first time in Florida's history, there will be more seniors on wait lists than the total number of people getting service from the Department of Elder Affairs," Pafford said.
He charged that the legislature is lying about the statistics because it keeps changing the requirements for people who can become eligible for the programs and reducing the availability of the programs themselves.
If more cuts need to be made at the state level, he said, reforms would need to be made, such as reinstating the intangibles tax or collecting an Internet sales tax. "You shouldn't be afraid of making decisions that are going to make people angry," he said. "You're elected to make difficult decisions."
Other than their philosophical differences, Pafford differentiates himself from his opponent by pointing out his outspokenness when it comes to women being able to choose the type of healthcare they need.
"I'm someone who has always supported gay marriage," he said. "I'm someone who believes that the large corporations in the state have gotten probably 90 percent of the attention, and the vast majority of working people in Florida have been left to deal with life on their own."
Pafford said he takes the job very seriously. "We're only going to be here eight years if we're lucky, and I don't want to look back in 20 years and think I should have been more outspoken," he said.
For more information, visit www.votemarkpafford.com.