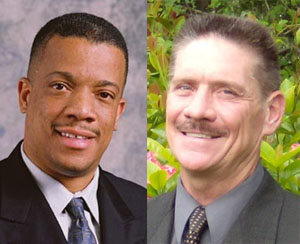 Port of Palm Beach Commissioner Wayne Richards (left), a Democrat, faces a general election challenge from Republican George Black (right).
The Port of Palm Beach is governed by a five-member commission elected by residents in the Port of Palm Beach District, which includes most of the northern half of Palm Beach County, including most of the western communities.
Created as a special taxing district, the port has authority to levy taxes but has not done so since the 1970s.
Richards, a mechanical engineer and attorney, has held the port commission's Group 1 seat since 2000. He has chaired the commission for the past two years.
Richards, who easily defeated builder Joseph Anderson in an August primary, is quick to point out how well the port has been doing despite a weak overall economy.
"We have gone through the worst five years of probably the last 20 or 30 years as it relates to traffic in the Caribbean," Richards said, explaining that the Port of Palm Beach is a niche port. "We supply foodstuff and construction materials to the Caribbean. That is our base, and, unfortunately with our challenging economy, the economy in the Caribbean is far worse."
Over the past few years, he has taken his family to the Bahamas and other locations, and resorts have been empty. "All of the construction projects have ceased," he said. "That means we are no longer shipping cement, we are no longer shipping block, we are no longer shipping wood and other construction products to the Caribbean."
However, under his leadership, Richards said the port has worked hard to diversify itself. "I believe if we're not growing, we're dying," he said.
To counteract that situation, the board four years ago aggressively sought out a new port director. "I was very keen on finding someone with marketing experience," Richards said.
They ultimately hired Port Everglades deputy marketing director Manuel Almira for the job.
"We made it very clear that we need to diversify our revenue base and increase our throughput," Richards said. "That has been his focus, and what a blessing, because we have just experienced our fourth year of increased profit margins. Our margins are now at 51 percent."
For three of the past four years, the port has cut expenses while still diversifying its revenue base.
"The port has never been this financially strong, and it's in a down economy," Richards said, adding that even better days are on the horizon. "Tropical Shipping and other shippers of the port have reported significantly larger cargo movements recently."
He is also proud that the port is now home to a popular cruise ship.
"We are now in a position where we have diversified our revenue base with the Bahamas Celebration," he said. "We are at full capacity eight of the 12 months of the year. We are bringing 2,400 people to the port every second day. These are two-day cruises — and 80 percent of the cruise traffic is from out of state."
Recently, the port landed a metal exporter that will be shipping to the Far East. "That's significant revenue," he said. "We have a new fuel blending operation."
The port also has a new Brazilian company set to start soon. America's Natural Caffeine will manufacture natural caffeine from guarana seed. "That was in cooperation with Gov. Rick Scott and the Business Development Board of Palm Beach County," Richards said. "They are taking 30,000 square feet of warehouse. They're going to hire 75 people with an average salary of $60,000."
The Black Diamond casino ship is also a new port addition. "They are hiring people as we speak," he said. "They envision 125 people working for them. They are looking for people with gaming and food and beverage experience… The port is doing extremely, extremely well."
That is not the way challenger Black sees it.
"I'm interested in our port, and there are a lot of things over there that I want to do," he said. "I wasn't really sure until I read the 10-year master plan what they had and what they didn't have. There are some changes I would suggest if I get elected."
Among them are improvements necessary to broaden the port's base. "One of the things I wanted to do was deepen the channel, but it looks like they are already working on that at this point," Black said. "The U.S. Army Corps of Engineers is doing a study on trying to deepen the channel."
The master plan also has an interchange at State Road 710 and Interstate 95. "It seems like they've been blocked on that so far," he said. "I would like to work on getting that done."
Black also seeks to promote getting some type of major office building on the port property.
"I would like a massive office building with an exposition center, and to keep the taxpayers from having to pay for it," he said. "I think that would stimulate business around the port."
While accomplishing all of those things, he would want to make sure that nothing is done to contaminate the water or harm the living coral reef nearby.
Black is also concerned about commissioners' attendance at meetings. "When I first started going to meetings, two of the five commissioners left early and they approved the 10-year master plan with just three commissioners there," he said. "They re-approved it at the next meeting with five of them there."
He pointed out that one of the master plan maps is flawed, describing the slips as "Slip Two, Slip Two and Slip Three."
"I would think they should be a little sharper than that, but everybody makes mistakes, I guess," Black said.
Black also has questions about some high-voltage lines that still run through the property, even though the nearby FPL power plant has been demolished. He believes they should be buried or removed. He was also critical of mistakes he said were made when the port built new switching tracks — the train engine shelter was too short, he said.
"Personally, I don't think they should be making that many mistakes like that, but it is what it is," Black said. "That's some of the reasons why I'm running for commissioner, because I think they could do a little better job. I'm not really complaining. I like Wayne, but maybe it's time. You're in there 12 years; you don't pay as much attention as when you first got in."
Black, 57, has lived in Palm Beach Shores since 2003. He works in the construction industry and has not held public office before.