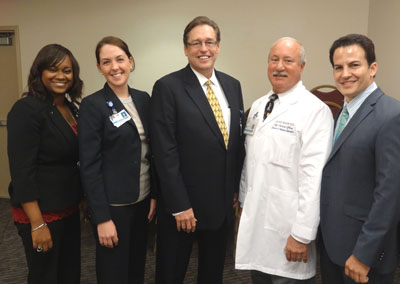 Wellington Regional Medical Center hosted the Central Palm Beach Chamber of Commerce's monthly luncheon Monday in its recently opened Alan B. Miller Pavilion.
CEO Jerel Humphrey said that the new, 103,000-square-foot pavilion includes 80 private patient rooms, two intensive-care unit step-down areas, spa-like décor and finishes, upgraded dining amenities, a new and expanded pharmacy, and the latest technology.
VIDEO: Chamber Luncheon At WRMC
"We're very excited about our new pavilion," Humphrey said. "I assume you came in through our new lobby. With the new pavilion opening, it gives us 233 beds, and we're very happy to have that."
One of the issues WRMC has had for several years is overcrowding in the emergency department, especially during the winter season. "It has gotten to the point that we had to hold people in an inpatient bed in the emergency department because we simply didn't have room," Humphrey said.
The expansion provides much-needed relief to that situation.
"It was not a very pleasant way as a patient to be introduced to the inpatient services of a hospital, being in a gurney waiting for a hospital bed," he said. "The pavilion will help alleviate that problem."
The pavilion was designed and planned for more than five years before building actually commenced, he said.
The patient rooms are designed not to have the drab institutional motif that is commonly associated with hospital rooms.
"We wanted to give it more of a hotel look, so it has softer colors," Humphrey said. "It is patient-centered in that the nurses can enter information in each patient room. There is a computer terminal for them to interact with the patient, as well as enter the information at the same time."
For more information about the pavilion, visit www.wellingtonregional.com/patientexperience.
ABOVE: Wellington Regional Medical Center officials at the luncheon: (L-R) Emergency Department Nursing Director Sharonda Brown, Director of Business Development Beth Mourelatos, CEO Jerel Humphrey, Dr. Jeffery Bishop and Dr. David Soria.