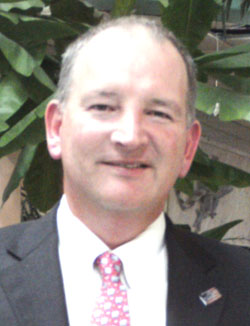 State Rep. Pat Rooney (R-District 83), wrapping up his first term representing northern Palm Beach County in Tallahassee, faces a re-election challenge from Democrat David Lutrin.
Rooney and Lutrin are running in the newly drawn District 85. The district encompasses large swaths of northern Palm Beach County, including Palm Beach Gardens, North Palm Beach and Juno Beach, as well as all of The Acreage, western unincorporated areas such as Deer Run and Fox Trail, and some parts of suburban West Palm Beach.
Previously, Rooney represented only the northern half of The Acreage. In the new district, he would represent the entire community. "Basically, the district is going to go from Lion Country Safari to the Juno Beach Pier," he said.
Rooney is managing partner of two restaurants and has been president of the Palm Beach Kennel Club since 2006. He has a master's of business administration degree and is also an attorney.
As a businessman, he said the legislative process is very different from a business environment, especially if you're a manager. "You can tell people under you, 'Hey, I want this done.' For the most part, it will be done that day or within a week. You get to see the results of that decision rather quickly. Right or wrong, you can deal with it. The legislature is a much slower, laborious process," he said.
Rooney submitted his allotment of six bills in both sessions, getting one passed in his first year that allowed county governments to waive the requirement for competitive bids on smaller contracts, which was intended to give smaller contractors a better shot, but it was vetoed by the governor.
Last year, one of his bills was designed to protect the families of fallen veterans from harassment at their funerals. Staff, however, became concerned that if they only protected families of veterans, there might be a constitutional challenge.
He proposed opening it up to all funerals, but the State Senate didn't agree. "It was very frustrating because when they kick it back to you, you have the option to accept what they're going to do, and it would probably have passed, but it would have been overturned," Rooney said. "I hope to try and bring it up again this year and see if we can get it worked out."
Rooney believes that he is the best choice for voters because he is a longtime resident with deep roots in the community. "I've lived in the same community over at Ibis for 20 years," he said. "I make it a point to get out to The Acreage or Juno Beach or Palm Beach Gardens, or go to the city commission meetings or the Indian Trail meetings. I try to get out there and understand what those folks are facing."
His involvement with civic and charitable organizations, including the Autism Project of Palm Beach County, gives him additional insight into the community, Rooney said.
Rooney's top goal upon returning to Tallahassee is to continue supporting small businesses. "The reason I ran the last time is the same reason I'm running this time, and that's to help small businesses, which are the backbone of the economy in Florida, especially here in Palm Beach County," he said.
Small businesses are affected by duplicative regulations at the local and state levels, he said. "What we have tried to do the past two years, and what I still think we can do more of, is cutting down some of that duplication of regulation and rules to make it as easy as it can be," Rooney said.
As a former member of the South Florida Water Management District governing board, Rooney strongly supports Everglades restoration projects, which he feels are important both for tourism and the water supply. "I know a lot of the Everglades is gone forever, but what we have, I think we have a stewardship responsibility to try to get it as closely as we can to what it was," he said.
He is also working on a proposal to require deaf and hard-of-hearing student communication plans, noting that many teachers currently do not know how to communicate effectively with deaf students. "Deaf students are not mentally impaired, they just can't hear," Rooney explained. "If they're lumped in with other kids with other types of disabilities, you might be slowing their ability to progress."
Rooney is optimistic that the economy is starting to rebound and the legislature will not face another round of cuts. "We cut over $4 billion my first year and almost $2 billion last year," he said. "The revenue estimating conference came back in August and said they think we're going to have some money, but if we have to cut much more than a billion, it's going to be tough."
Rooney considers himself a conservative, but he said he is interested in working with others. "I do think there's a fairly big segment of liberals and conservatives up there trying to get to the same goals, which is how to make Florida the best that it can be," he said. "We have different means to get to that, but are they insurmountable to be able to work together to get some of that done? I don't think so."
As The Acreage works to recover from Tropical Storm Isaac and strengthen its drainage system, Rooney said that whatever assistance the state can give, he would support, but it must be done with the desires of the community in mind. "Many residents have made a deliberate choice to live in a rural area where they don't want a lot of government intrusion," he said. "They want a simplified lifestyle for a specific reason, so you have to balance."
Improving drainage in that area could be costly, he warned. "Obviously, they are going to be assessed, but even after this, are they going to want to succumb to that?" he said, adding that the Indian Trail Improvement District should serve as the lead agency on such improvements. "Indian Trail is really responsible for dealing with a lot of this issue, but at the same time, they are unincorporated. They don't have that voice like Wellington does."
Rooney promised to be there to listen to whatever Acreage residents decide they need. He is also aware that the state has been asked to become involved in the acquisition of the Mecca and Vavrus properties for future water management adaptation. "With the crazy weather patterns, it seems that we're either in an extreme drought or something like this," he said. "It's better to be prepared."
Rooney's constituency is divided on the future of the State Road 7 extension to Northlake Blvd. As a resident of Ibis, which is adjacent to the SR 7 right-of-way where it joins Northlake, he said some of his neighbors vocally oppose the planned route, but others are more quietly supportive. "When we moved in there, it was clearly delineated on the master plan that had that road in there," he said. "That's 20 years ago."
He thinks it is important to continue communicating with people about issues such as noise mitigation, buffers and concerns about contamination of the water catchment area to the east of the right-of-way. "I'm assuming the road is going to be built," he said. "You just have to figure out how to work with the groups and try and make them happy."
For more information, visit www.electpatrooney.com.