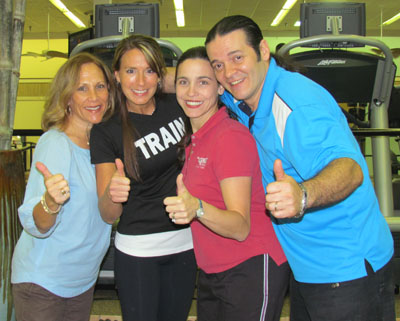 Ultima Fitness in Wellington will unveil its new look with an open house Saturday, Oct. 20 from 8:30 to 11 a.m. Over the past few months, the Ultima Fitness staff has worked diligently to give the facility a face lift.
As soon as clients walk in, they'll find a calm and airy feel. Everything from the paint to the flooring has been changed to depict a spa-like atmosphere with warm and inviting earth tones.
Owner Jill Merrell has already received positive feedback from clients. "In our overstressed society, we need to work out in a place where we feel relaxed," she said. "Our customers have said that now it feels very Zen-like."
The changes include new paint, carpet, counters, flooring and equipment. These improvements are a quintessential part of what Ultima Fitness stands for, Merrell said. Since the fitness studio opened in 1990, its mission has been to continuously evolve in meeting the changing needs of customers. "Everything is laid out to be more of what the current trend of fitness is," Merrell said. "There is more room for people to do a lot of their functional training."
After taking into account what clients asked for, and armed with advice from fitness industry professionals and interior decorators, Merrell and the rest of the management staff decided to pursue the remodeling.
"We replaced a lot of the equipment and added new things like the flat-panel TVs on the walls," Merrell said. "We have always changed the equipment over the years, but now we have rearranged the layout to make it more open."
The open house will give clients and guests a chance to see the transformation and give them an idea on the future of Ultima Fitness. The event will be free and open to the public, so that non-members can experience what it's like to be an Ultima Fitness member.
The open house will include the regular schedule of classes as well as a free self-defense class, free screenings, free sample smoothies from Whole Foods Market, a hair makeover demonstration from neighboring Visions Salon and plenty of door prizes.
There will also be a "New Look Make-Over" grand prize, which will include a one-year Ultima Fitness membership, an eight-week tae kwon do introductory membership to refocus your mind and body, a gift basket from Visions Salon to redo your hair, and a $100 gift card courtesy of Whole Foods to make over your refrigerator.
Ultima Fitness strives to help others. "This quote from Sally Koch pretty much sums up Ultima Fitness, 'Great opportunities to help others seldom come, but small ones surround us every day,'" office manager Judy Duany said. "Every day we have the opportunity to help change someone's life no matter how big or small their fitness goal is."
Ulitma Fitness believes strongly in contributing to its host communities, and over the past 21 years, the company has been involved with many charitable organizations by heading up events or raising money to support charitable efforts. "We are still committed to our community and giving back. This has never changed and will continue," Merrell said.
In September, Ultima Fitness collected school supplies to help support the children of Palm Beach County. The next fundraiser event will be an in-house charity kick-athon hosted by the Xtreme Tae Kwon Do students Saturday, Oct. 27 to benefit Hospice of Palm Beach County.
Later on in the year, Ultima Fitness will be helping a local food drive, supporting the annual Wellington Community Fitness Run/Walk and assisting Toys for Tots. "Ultima won't rest on past accomplishments," Duany said. "We're committed to serving your needs now and in the future."
Ulitma Fitness is located at 12799 W. Forest Hill Blvd. in the Wellington Plaza. For more information, visit www.ultimafitness.com or call (561) 795-2823.
ABOVE: Ultima Fitness owner Jill Merrell, Lynette Laufenberg, Judy Duany and Grandmaster Gustavo Pope invite you to visit on Oct. 20.