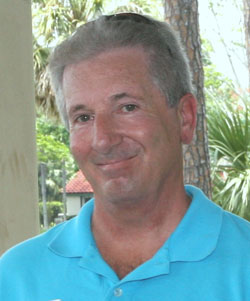 Elementary school teacher David Lutrin has a vision for Florida's future that he hopes voters in northern Palm Beach County will share, choosing him as their state representative Nov. 6.
"I feel I know what's good for the citizens of Florida," said Lutrin, a Democrat.
Lutrin, a physical education teacher at Coral Sunset Elementary School in Boca Raton, is challenging Republican incumbent State Rep. Pat Rooney for the newly drawn District 85 seat.
After redistricting, District 85 encompasses large swaths of northern Palm Beach County, including Palm Beach Gardens, North Palm Beach and Juno Beach, as well as all of The Acreage, western unincorporated areas such as Deer Run and Fox Trail, and some parts of suburban West Palm Beach.
Lutrin has spent 22 years as a public school teacher in both Palm Beach and Miami-Dade counties. He graduated from Queens College in New York with a bachelor's degree in education, working his way through college as a New York City taxi driver.
Lutrin moved to Nevada and worked in the casino industry while working on his master's degree from the University of Las Vegas. He later received his master's degree in computer science education from Nova Southeastern University.
Shortly after gaming arrived in Atlantic City, Lutrin was recruited to work in those casinos.
In 1990, Lutrin moved to Florida to help his mother care for his terminally ill father. He began teaching in Miami-Dade. In 1995, he married his wife, Harriet, and three years later they had a daughter, Samantha.
His daughter's arrival motivated him to get politically active. "I was semi-aware, but I wasn't politically active," he said. "After the stolen election in 2000, I was pretty angry. As things got worse and worse, I didn't see [my daughter] getting the same opportunities that I had."
In 2006, Lutrin filed to run against former U.S. Rep. Mark Foley for a seat in Congress.
"I was running against him before [former Congressman] Tim Mahoney was in that race," he said. "I was the Democrat backed by the [Democratic Congressional Campaign Committee]. But then, when the DCCC found out about Mark Foley's e-mails, they recruited Tim Mahoney from being a Republican to a Democrat. I was expendable then."
But Lutrin continued to remain active, notably in the teachers' union, where he served as co-chairman of the government relations committee. He worked as a consultant with the Classroom Teachers Association, later serving as a voting member.
"What's been going on in Tallahassee is a selloff of our state to special interests," he said. "The legislature and the governor talked a good game about how they want to create jobs and jump-start the economy. But then, when they got down to it, it was all about social issues and tax breaks."
Those tax breaks, Lutrin charged, have not helped Florida's economy. "Florida has no personal income tax, and as far as corporate tax, we're the sixth-lowest in the nation," he said.
If tax breaks for corporations actually work as Republican leaders insist, "we should have a really low unemployment rate, but we're 38th in the nation," he said.
Lutrin also pointed to Nevada, which he said has no corporate income tax and no personal tax. "They have the highest unemployment rate in the country," he said. "Tax breaks don't work."
If elected, Lutrin said he would work to finance public education, raise revenue and create jobs. He said that he would place a high priority on public education, which he believes will help attract companies to Florida.
"There is little funding for public education," he said. "We are 48th in the nation. We need to fund public schools. When CEOs look to come open up shop here, they look at our quality of life and our education system, because they want to know how their families will live. They look at Florida, and they say: 'No. I don't want my family to live here. And my employees are not going to do well here.'"
Regarding raising revenue, Lutrin said the state should look to collect existing Internet sales taxes and reinstate the intangibles and luxury sales taxes.
"We can't just keep cutting and cutting," he said. "We need to invest in the middle class and in the state. We need to eliminate sales-tax loopholes; there are so many exemptions to sales tax. We need to raise revenue so we can fund programs and infrastructure."
He also expressed concern about public money going to for-profit and private schools via a voucher system. "I'd make cuts to all vouchers," Lutrin said. "I would not spend public money on private schools. If you want to open a school to make a profit, go for it. You're on your own."
Lutrin said he believes that by investing in the state and its residents, the state can create consumers, which will create jobs. "My dad owned a grocery store," he said. "He hired people when he had more consumers. The rich don't create jobs. That's a myth. Consumers do."
Another issue he said he is concerned about is the Palm Beach County amendment on the ballot this election to allow slot machines in pari-mutuels.
"The only pari-mutuel in Palm Beach County is my opponent's," Lutrin said, pointing to the Palm Beach Kennel Club, which is owned by Rooney's family. "That is the only reason Mr. Rooney ran. The only reason he sought this position was to influence and get this on the ballot."
Lutrin believes that slot machines could cause problems for Palm Beach County. "I've lived through the expansion of gambling," he said. "It does nothing but bad things to neighborhoods. It does bad things to families."
Lutrin characterized himself as "liberal with some libertarian," noting that he is progressive on many social issues, including women's rights and same-sex marriage.
He said he differentiates himself from Rooney because he believes in financing public programs and opposes large tax breaks.
"I believe that everybody should be able to earn as much money as they can," he said. "But in order to do so, you need to depend on public services — public roads, schools, waterways and libraries. Somebody has to pay for those things. There is no free lunch."
Lutrin said he believes in properly financing public institutions. "My opponent is of the belief that private is better," he said. "He even voted to privatize the corrections system, which would compromise public safety."
Lutrin added that he opposes all of this year's proposed amendments to the state constitution, and criticized the state legislature for several decisions last session.
"They cut $350 million from higher education," he said. "But then they created another university that was totally unnecessary. I didn't like their budget, even though it added money to education. It still gave to private schools. I wouldn't have shifted Medicaid. They are privatizing it. I understand that they're trying to save some dollars, but it is going to ration care."
Ultimately, Lutrin said he is a public servant who works hard and hopes voters can identify with him. He said he wants a chance to work for residents to improve things in the state.
"Florida could and should be a paradise," he said. "But it isn't. I have the vision to help take it and make it what it should be."
For more information, visit www.lutrin.org.