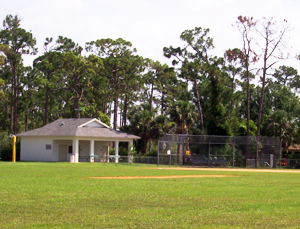 A $200,000 improvement project at Lindsay Ewing Park near Royal Palm Beach Village Hall planned for 2013 has been moved back to 2015 due to budget constraints.
That decision was among a number of items Parks & Recreation Director Lou Recchio discussed at the Sept. 24 meeting of the Royal Palm Beach Recreation Advisory Board.
Priorities were given to other projects considered more urgent, Recchio said.
"Looking at the projects that we had and the financial situation that everybody is in, we felt it wise to push that back," Recchio said. "It wasn't a necessity. There are really other projects that need to be done before Ewing. It's nothing that had to be done right away."
Lindsay Ewing Park currently is largely an open area with one ball field on it and restrooms. "Every weekend we have a group out there playing cricket," Recchio said.
Projects that Recchio and his staff gave preference to include the $35,000 replacement of accordion divider partitions at the Royal Palm Beach Recreation Center. That will enable the large meeting room to be divided into two smaller rooms, and allow the teen room to be divided into three separate rooms.
Recchio said the existing dividers have been there since 1992 when the building was constructed. "They already have been removed and should be completed in the next couple of weeks," he said.
Todd Robiner Park at La Mancha Avenue and Las Palmas Street recently had its 10-year-old playscape replaced.
"We received a lot of comments on this as it was going up, and people were anxious to get their kids on that apparatus," Recchio said. "It's not your typical playground. It has things that kids can climb all over and get some good exercise out of it. It's a beautiful park, and it gets a lot of use."
In other business, the committee heard plans for a skate park to be built in 2013, which had been brought up to the Royal Palm Beach Village Council by a group of skateboarders.
Recchio said two options had been discussed; one to build it from scratch at a cost of about $200,000 at Camellia Park, and another to use an underused existing roller hockey rink at Preservation Park near the recreation center.
"Part of our responsibility is to make the best use we can of the facilities we have," Recchio said, explaining that one of the rinks had been converted to a remote control car track. "For a few people to go out there and use it once a week doesn't make sense. What we are planning on doing is converting that. The surface is already there, so we don't have to pour any concrete or lay any asphalt."
Water fountains and lights are already there, and the recreation center and restroom facilities are easily accessible. "It's close to the middle school, which I think will get a lot of middle school users," Recchio said. "We're confident we're going to save ourselves about $100,000 by doing this."
Recchio said he is working with the committee of kids who came to the council and the Recreation Advisory Board to get input on the creation of the skate park.
Other capital improvement projects include $150,000 for the Royal Palm Beach Cultural Center. "The kitchen is in dire need of renovations," he said. "That's the original kitchen from '92 when the facility was built. The restroom facilities need to be renovated."
Recchio noted that the use of the center has changed significantly, since it became a seniors facility by day and social center at night and on weekends. "We need to make better accommodations for that," he said.
Field 5 at the Bob Marcello Baseball Complex at Willows Park is scheduled for $190,000 in renovations in 2013 and another $210,000 in 2014. "This is one of our oldest parks in the community," Recchio said. "The lights have been there since 1988, and we're constantly running into maintenance issues."
In addition to light replacement, plans are to expand the field and improve drainage. "If we get any rain at all, that field is underwater, because there is no place for that water to go," he said.
Tennis and basketball courts are also set to be redone at Crestwood, Willows and Preservation parks at a cost of $170,000, Recchio said.
ABOVE: Lindsay Ewing Park in Royal Palm Beach.