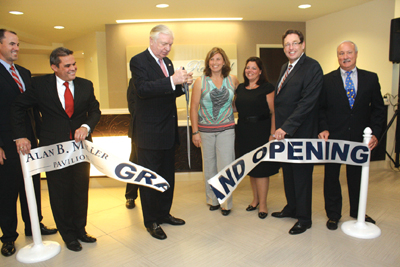 Promising a new era in patient care, Wellington Regional Medical Center cut the ribbon Wednesday on its Alan B. Miller Pavilion.
The 103,000-square-foot, three-story addition adds 80 all-private acute-care suites featuring bedside computers and the most advanced patient care technology.
The pavilion is named for the CEO and chairman of parent company Universal Health Services, Alan B. Miller, who was instrumental in the creation of Wellington Regional Medical Center.
"Without his vision and drive that started 26 years ago and continues to this day, Wellington Regional Medical Center could not be dedicating this pavilion," WRMC CEO Jerel Humphrey told the standing-room-only crowd.
Miller said that this new pavilion verified that he and his company made the right decision in investing in the Wellington community.
"When we first started this project, it was a big step," he said. "We had a small company, and it was a big investment in the middle of nowhere. We had great hopes that this was the right place and that this would be the center of the community. We were all right."
Miller said that the success of the hospital has been due to a partnership with the community.
"We thought that as the community grows, we'll grow and we'll both be successful," Miller said. "I'm glad to provide these kinds of facilities to outstanding medical staff and the community. When someone gets sick, they know that this is a place they can turn to in order to get better."
Wellington Mayor Bob Margolis agreed, expressing his appreciation for all of the work to make the project a reality.
"This facility will go a long way in making sure we meet our residents' medical needs now and for years to come," he said. "This truly is a great moment for the people of the Village of Wellington and our neighboring communities."
Dr. Melissa Carlson, who chairs the hospital's board of governors, said that the new pavilion shows WRMC's commitment to quality and patient care.
"It's not just a building," she said. "It's not just a group of beautiful rooms and pleasant areas in which to recover and rest. This is Wellington Regional's commitment to quality. It's a commitment to our patients and our community."
The new addition will bring the hospital to 233 beds, alleviating pressure on the emergency room. It also includes space for other needs, such as a unit for high-risk pregnancies.
"This increase in square footage allows us to care for more acute and more high-risk patients," Carlson said. "It all boils down to the fact that we will be able to take care of our neighbors, friends and family closer to home, even with the most complicated medical problems. This, in turn, will bring more quality positions with newer treatment options, newer techniques and newer technology."
WRMC Chief of Staff Dr. Richard Hays said that the medical staff worked hard to make this dream a reality.
"They let them know the need and the desire to have this type of facility," he said. "I have no doubt that the medical staff will see that their efforts were extremely well worth it."
Hays said that the facility would give staff a sense of pride.
"Once you see the facility, you'll understand why people clamor for this type of care," he said. "It's not only beautiful, but it has a state-of-the-art approach to medicine."
Margolis also noted the fiscal impact it will have on the community, providing 100 full-time positions and $5 million in annual salaries by 2017.
"While I hope that neither myself nor my family will have to come through these doors as a patient, I know that if they do, they are in good hands," he said.
ABOVE: Universal Health Services Chairman Alan B. Miller cuts the ribbon to open the pavilion named in his honor.