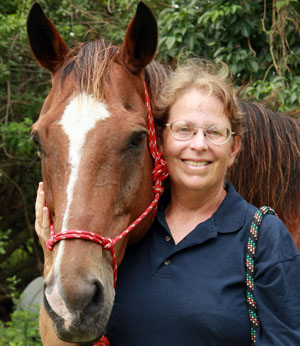 TAILS FROM THE TRAILS
Victoria McCullough loves animals, especially horses. She's exuberantly ecstatic over all things equine, and lucky for them, her extremely well-heeled feet are planted firmly on the ground even while her head and heart spin grand ideas of how to save them. Not just a few here and there, mind you; McCullough dreams big. She's out to save them all, and, lucky for the horses, she's just the woman to get it done.
Originally from Maryland, she didn't begin riding until she was a teenager. Her dad owned race horses, and she worked with some of the youngsters, building their confidence when breaking from the gate. Eventually that morphed into showing in the Amateur Jumpers division at shows.
"I skipped right over all that equitation stuff," McCullough recalled. "I still show Amateur Jumpers, mostly in Europe now."
Gradually, she became aware of certain problems within the horse industry; she started doing research. "I love all horses," McCullough emphasized. "Because of my father, I have such a connection to race horses. I had no idea that 76 percent of American race horses were killed for human consumption, shipped to slaughterhouses in Mexico or Canada. I couldn't accept those figures, and I had the resources to do something."
And by something, McCullough meant ending horse slaughter. Period.
"When I contacted officials within the industry and government, they told me that most of the horses going to slaughter were old or infirm. I knew that was untrue, so I decided to prove it," she said.
What she did was visit the Sugarcreek Livestock Auction in Ohio, on May 23, 2008, and buy the entire auction: every single horse that came through, first to last, all 164.
"I had no idea how many there'd be, I just knew that, on that one day, not one would go to slaughter, regardless of age, breed or condition," McCullough recalled. "I also wanted to find out exactly what was being sent through, so I could prove those numbers. What I found was that 80 percent of the horses were ex-Thoroughbred race horses, there was nothing wrong with them, and their average age was 4 years old."
McCullough borrowed a friend's farm in Ohio and transported all the horses there. Six were in such bad shape they had to be put down. The rest were adopted with the help of friends and organizations such as the local group Pure Thoughts Horse Rescue.
"Many of these were young horses or yearlings," she said. "Some were mares in foal. Very few were old, infirm or unsocial. Most were perfectly wonderful horses. The truth is, sending horses to slaughter is a way for owners to hide neglect and abuse. It doesn't promote accountable ownership. I had to change this unjustifiable cruelty, just so I could sleep at night."
Through her group, the Davis McCullough Foundation, she founded the Triumph Project to make people aware of what was happening to horses, not just here in the United States but worldwide.
"Our goal was to end the transportation of horses to slaughter, and create a humane and affordable euthanasia program for horses who are truly beyond help," McCullough explained. "There's a lot of greed in the horse industry. Some breeding farms are just like puppy mills. I wanted to counter that by making it cheaper and easier to have horses adopted than by sending them to slaughter. I became a horse lobbyist."
She was invited to speak at a hearing before the U.S. House Judiciary Committee on Sept. 17, 2008, in favor of HR 6598, introduced by Rep. John Conyers. The Conyers-Burton Prevention of Equine Cruelty Act of 2008 would have made it illegal to transport horses in or out of the U.S. for the purposes of slaughter for human consumption. It passed the House, but a similar bill died in the Senate.
But that didn't stop McCullough.
On Sept. 19, 2011, she got the bill reintroduced: HR 2966, sponsored by Rep. Dan Burton, a Republican from Indiana, and S. 1176, by Sen. Mary Landrieu, a Democrat from Louisiana. The American Horse Slaughter Prevention Act of 2011 was a bill amending the Horse Protection Act to prohibit shipping, transporting, moving, delivering, receiving, possessing, purchasing, selling or donating horses and other equines to be slaughtered for human consumption, and for other purposes.
This one, too, is still in limbo, so McCullough tried something else. "If I couldn't stop it because of the cruelty, maybe I could stop it because of the food safety issue," she said. "Many horses, especially race horses, are given all sorts of drugs prohibited in meat meant for human consumption. The goal was to shut down the horsemeat market."
There's a whole laundry list of these common, legal drugs, which include wormers such as ivermectin and painkillers including phenylbutazone (bute), which all carry warning labels that these are not meant for human consumption. Indeed, they are completely banned in food-producing animals by the FDA.
European Union and United Kingdom member countries have a safety policy prohibiting such horses from entering the food chain. All EU/UK horses carry "equine passports," which declare them either eligible or ineligible for slaughter as human food. Any horse that has ever received a medication banned for use in food-producing animals is forever prohibited from entering the food chain. Horsemeat derived from U.S. horses isn't regarded as safe for human consumption.
Working with the South Florida Society for the Prevention of Cruelty to Animals, McCullough helped get HB 765 passed in 2010, also known as the Ivonne Rodriguez and Victoria McCullough Horse Protection Act, which makes it illegal to transport, distribute, sell, purchase or possess horsemeat for human consumption unless it is clearly stamped, marked and described as such or obtained from a licensed slaughterhouse. And there are no horse slaughterhouses in the U.S.
The offense is a third-degree felony, carrying a minimum mandatory fine of $3,500 and a minimum mandatory period of incarceration of one year. Ivonne Rodriguez's pet horse, Geronimo, was stolen, tied to a tree and killed for his meat in southwest Miami in February 2009.
When she's not out lobbying to save horses, McCullough is at home on the new property she has bought on 40th Street South in Wellington. She's completely renovating the house at the former Mida Farms, all 14,000 square feet. She has already replaced the 99 windows. "I bought half of the 52 acres," she explained. "One part is going to be used for charity fundraisers."
The main barns are on the other half and house the remaining 22 rescued horses.
"They're treated just as well as my show jumpers," she pointed out, and indeed, these are pampered horses. Some are still available for adoption. Some, like Walter, an ex-rodeo horse with many issues, will stay with McCullough forever, as will her favorite, Billy the Belgium.
"Many of the rescued horses were adopted by people right here in Wellington," McCullough pointed out. "This town is overflowing with real equestrians. There may be disagreements over some issues, but that's not us; we help horses and care about each other. This is an amazing community, and when I rescue more horses, this is where they'll come."