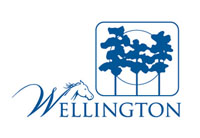 For the first time in five years, Wellington residents will see a slight decrease in the village's tax rate following a unanimous vote Wednesday by the Wellington Village Council.
Council members unanimously approved a tax rate of 2.47 mills, down from the preliminary rate of 2.5 mills approved earlier this month.
"If we look at what happened to the property values in Wellington, they were decimated," Vice Mayor Howard Coates said. "For us to come in and raise the taxes when we've finally seen an increase in the market, that's an increase on our residents."
A rate of 2.47 mills means a property tax of $2.47 for every $1,000 of taxable value. At that rate, the owner of a home assessed at $150,000 after exemptions would pay $370.50 in village property taxes next year.
The difference between the rates of 2.5 mills and 2.47 mills is about $6 per resident, Village Manager Paul Schofield said. "We can live at 2.47 [mills]," he said. "I am prepared to do that."
Next year's proposed budget of $74.46 million also marks the first increase in five years, up $524,000 from last year. Initially the budget was expected to fall, but it grew due to increased transfer funds.
Coates asked whether anything had changed since the council meeting two weeks ago that would necessitate the higher tax rate.
Director of Finance Mireya McIlveen said that her staff had begun to look at anticipated expenses in the wake of Tropical Storm Isaac, as well as infrastructure improvements.
"We're proposing taking the $330,000 that we'd gain from adopting a tax rate of 2.5 mills and asking it be reserved for road and infrastructure improvements," she said.
But Coates pushed her to answer whether the rate of 2.5 mills was necessary.
"You just did what I said you'd do," he said. "You went back to find ways to spend the money we're approving. What I want to know is whether something happened so that you can't recommend a tax rate of 2.47 mills and need to recommend 2.5 mills."
Schofield said that the change wasn't a necessity but noted it could offset the cost of some improvements — particularly widening the culverts where the C-8 Canal crosses under Forest Hill Blvd.
"That was one area where we had some significant drainage problems," he said. "That is where I would earmark the money."
Councilman John Greene said that Wellington would be paying the cost either way — it was a question of paying now or later.
Schofield agreed. "The difference is that it's probably cheaper to do it now," he said.
Councilman Matt Willhite pointed out that Wellington was not declared a disaster zone, meaning that some of the money Wellington took out of its funds would not be reimbursed.
"I can't think that we would tell our residents that we won't be working on road improvements," he said. "I'd be happy supporting 2.5 mills."
But Coates said that was unfair to residents.
"The budget department and manager say 2.47 is fine," he said. "But we, as a council, will be increasing it to 2.5 because of what we might want to do down the road — and in an undefined fashion."
During public comment, Neil Williams pleaded with council members to lower the tax rate.
"I've seen my income drastically drop in the last four years," he said. "We're not through the rough times yet. I don't think it's right to start taxing us more. You say it's just $10 or so, but not everyone has that. It's $10 you have to find somewhere."
He noted that other expenses have gone up.
"My power has increased, water has increased and food prices are going up," Williams said. "Even if I wanted to sell my house and leave Wellington, I couldn't because the value of my house has gone down."
Williams said Wellington needs to operate like a business.
"I have to figure out how to budget," he said. "I can't put it all on my clients, or else they'll leave. There comes a point where we say it's too much."
Greene noted that Wellington does reserve funds for disasters, but said he supported the 2.5 rate initially because he wanted the ability to hold it if Wellington was in need.
Coates made a motion to lower the tax rate to 2.47 mills, which passed unanimously.