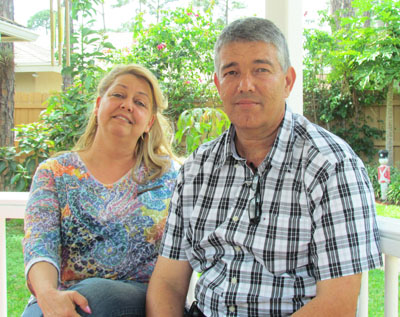 Wellington Elder Care received final approval Tuesday to expand its facility from 14 to 21 beds, meaning the company can provide a local home to more seniors in its communal living facility.
Members of the Wellington Village Council unanimously agreed to the change for the facility on Lily Court, which had support from families of residents and most neighbors.
Earlier this year, council members approved a zoning text amendment to allow for a new designation of senior housing that would permit the additional residents.
"The changes to the zoning text amendment recently created this type [of zoning] for senior housing that allows 21 residents," Planning & Zoning Manager David Flinchum said.
The new designation would allow Wellington Elder Care, specifically, to expand under the changed code, Flinchum explained.
Vice Mayor Howard Coates asked about the separation requirement for a similar type of facility from nearby residences.
Flinchum said that if the separation is under 500 feet, it needs council approval. "It would come to you for approval," he said, noting that Wellington Elder Care had received such approval in 2010 when it was first opened.
Coates asked for clarification. "So we addressed the separation issue two years ago, and the council did not have an issue with it?" he asked.
Flinchum said that was correct.
Councilman John Greene said he had heard that an application for a similar facility had been filed and asked about the details of that facility. "I want to be a little proactive here," he said. "We're going to find ourselves addressing these separation issues time and time again. I think we need to look at the ordinance to be sure we are being consistent."
Flinchum said that the proposed 14-bed facility would have the same separation requirements as Wellington Elder Care. "That facility is a little different," he said. "There is a canal separation there."
Kim Glas-Castro, agent for the applicant, said that Wellington Elder Care had agreed to many of the conditions of approval recommended by council members, including the use of a schedule to coordinate parking arrangements in the facility's limited spots.
Wellington Elder Care will also allow for a private room for those needing critical or hospice care, she said.
Councilman Matt Willhite clarified that the council did not necessarily want a designated room but, rather, that a private room be made available when needed.
Glas-Castro said that is what the owners would do. "That is part of our request, to allow that flexibility," she said. "They don't want to have to move someone into that room if the required privacy is already available."
During public comment, neighbors and families spoke in support of the facility.
Sara Kublin, a physical therapist who works at the facility, praised Wellington Elder Care.
"I'm here to speak of the wonderful care they give," she said. "If I had to put a parent there, I would be very comfortable. The residents are treated like family. They are provided with wonderful opportunities."
Though there had been concerns about parking — most notably when the item was before the Planning, Zoning & Adjustment Board — Kublin said she has not seen a parking problem. "I have been there in the morning, the afternoon and the evening," she said. "I have never had an issue with parking. There has always been more than enough."
She said Wellington Elder Care was serving a need in the community. "I think there is such a need in this community for a place for elders to be where they are safe," Kublin said.
Willhite said he had some parking concerns still, especially with the requirement that four members of staff be on duty during the day when the site has only eight parking spaces.
Glas-Castro said that many staff members carpool, and noted that the facility has an SUV that is used to shuttle both staff and residents. "There's a parking space that will be labeled for administrative parking," she said.
Council members favored the facility, and the measure passed unanimously. "The feedback that we've gotten from the community… shows tremendous support," Greene said. "I'm very excited about supporting this for you."
ABOVE: Wellington Elder Care owners Rosa and Ricardo Gutierrez.