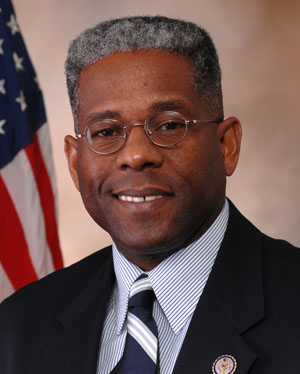 U.S. Rep. Allen West (R-District 22) is asking voters to return him to Washington, D.C., on Nov. 6 as he faces a well-funded challenger in a new district.
"I think we've done a lot of great things," West said. "I'm proud of what we've done. We've busted our tail in tackling the issues confronting Americans."
West faces Democratic nominee Patrick Murphy in the newly drawn 18th Congressional District. The 18th District encompasses Martin and St. Lucie counties on the Treasure Coast, as well as the northern third of Palm Beach County, including most of The Acreage and northern areas in Royal Palm Beach. The district leans Republican but is considered one of the few swing districts in the state.
West, 51, was born in Atlanta and is a third-generation military serviceman. For 22 years, he served in the U.S. Army, earning honors such as a Bronze Star, three Meritorious Service Medals and three Army Commendation Medals.
In 2004, he and his family moved to Florida, where West served as a high school teacher for a year before returning to Afghanistan as a military adviser.
In 2007, he finished his assignment and, in 2008, unsuccessfully challenged incumbent Congressman Ron Klein for a seat in the U.S. House of Representatives. He challenged Klein again in 2010 and won the District 22 seat, representing parts of Broward and Palm Beach counties. When that district was redrawn to favor a Democrat, West headed north to seek re-election in District 18.
A conservative Republican, West is a leader in the national Tea Party movement. He quickly made a name for himself in the Republican-controlled House, receiving appointments to the Small Business and the Armed Services committees.
West has introduced seven major pieces of legislation and sponsored 27 other bills aimed at protecting small businesses, spurring job creation and promoting American energy production.
"I had an incredible first term as a U.S. congressman," West said. "I think I learned something new each and every day. I'm just a simple soldier who responds to questions with truth and honesty. Some people don't like that, but most people appreciate it."
West said he is proud of the effort he has made during his time in office to cut wasteful spending.
"As a freshman member of Congress, 30 days of being there, I found three wasteful programs and brought it up on the House floor and had it pass 393-0," he said. "I think that's a pretty big accomplishment."
Although he has gained national recognition, West described himself as a principled and focused leader. "I have remained level-headed," he said. "I learned not to, as my followers say, read your own press and drink your own tub water."
If re-elected, West said that his top priorities will be tax reform, regulation reform and national security.
West said he does not believe that raising taxes on the wealthiest Americans is the way to fix the economy.
"If you just raise taxes on the top two brackets, that gives you $85 billion in new revenue," he said. "That can fuel the net interest on our debt for 10 days. The federal government spends $4 billion a day. So that means you could operate the federal government for 21 days."
West said the added taxes would harm small-business owners and halt job creation.
"[Those brackets] are where your small-business owners operate from," he said. "Upping the ante 4 to 5 percent means the profit margin is even more narrow. That means people are going to get laid off."
Another thing harming small businesses, West said, are federal regulations.
"In 2011, the federal government added 70,000 pages of new regulations," he said. "Everyone we have talked to says, 'The government is killing us with regulations.'"
West said he believes the federal government needs to reinstate the Glass-Steagall Act. "We need to separate commercial banking and venture banking," he said. "There was a lot of 'too big to fail,' and that is not the right principle for this country."
He also said that the government must create a business-friendly environment.
"The government doesn't create jobs," West said. "The government creates policies and an environment by which entrepreneurs can create jobs."
Regarding national security, West said that the government needs to continue to keep a watchful eye on the Middle East.
"I've been to the Middle East," he said. "I understand the challenges we face. We misread the entire thing about the Arab Spring, and now we see it has become a radical Islamic nightmare. We are on the cusp of something very big and very bad."
West is also concerned about the effect of the Affordable Care Act on the country, especially Palm Beach County.
He noted that one of the provisions of the healthcare reform act could have resounding effects on seniors, hospitals and Medicare.
"If a senior returns to a hospital within 30 days of a visit, the hospital gets fined," he said. "What do you think that is going to do for the mentality of the hospitals? We're already seeing doctors drop off of Medicare because their reimbursable rates are getting cut and cut."
West is concerned about the ramifications of the U.S. Supreme Court's ruling on the individual mandate portion of the law.
"The federal government now has incredible taxing authority where we can tax you for inaction," he said. "If I come down and say I want everyone to buy an electric car, and if you don't buy an electric car I will tax you for it, that's a problem."
Though some people have labeled him as unyielding, West said that he has been able to work with both sides in Congress.
He pointed out that he worked across the aisle with Rep. Dennis Kucinich (D-Ohio) to award the Congressional Gold Medal to the Montford Point Marines, who helped pave a path for black Americans in the U.S. Marine Corps.
Furthermore, West said he believes calls for "compromise" are hypocritical, since the Democratic Party did not compromise when it was in charge.
"In the first two years, they controlled the White House, the House and the Senate," he said. "You never heard people calling for compromise. Then the Republicans get the House, and all of a sudden they are saying, 'Where is the compromise?' I can't compromise on principles."
West said that much of the problem stems from an "ideological chasm" between the two parties as to how government functions.
"How do I compromise with people who believe a bigger government is better?" he said. "The debt of this country has increased. We have 47 million Americans on food stamps — that's a 46 percent increase. I can't agree with us moving away from an opportunist society to a dependent society. I think that's where we need to be able to articulate the differences between the two different philosophies of governance."
Though some have criticized him for switching districts, West said he went where he believed he was needed. "I'm a military man; I go wherever my country asks me to serve," he said.
West said that despite his opponent's insistence that he was let go from the military due to improper conduct, West pointed out that he received an honorable discharge. "It's hanging right on the wall in my office next to the certificate of appreciation for my service," he said.
He said he will continue to be a strong voice for his principles in Washington.
"I have a passion for this country," he said. "I don't see this as a job or a special interest. In serious times, you need to have serious people who can stand up and fight for their beliefs. My track record shows that I will get out there and fight for it. I may not be popular because of it, but at least I know, when I lay my head down at night, that I have fought for you."