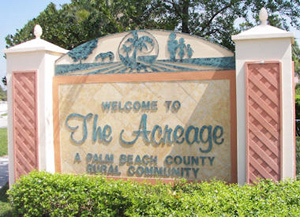 The fifth annual Acreage Fall Parade sponsored by the Indian Trail Improvement District will take place Saturday, Nov. 3, starting at Acreage Community Park at 9:30 a.m.
The 1.9-mile route is the same as last year, beginning at the park's south parking lot.
"It then travels north on 140th, east on Orange Blvd., south on Avocado, west on Tangerine Blvd., and ends up back at Acreage Community Park's south parking lot," said Kim Hutchison, executive assistant to the district administrator.
Last year, 37 registered floats were entered. In addition, some that showed up at the last minute also participated, Hutchison said.
There is no registration fee. Participants are encouraged to show up by 8:45 a.m.
Awards will be presented for floats for Most Original, Cutest Critter, Most Creative, Most Festive and Most Comical.
"We're going to be ending our food drive that day, as well," Hutchison said, encouraging people to bring last-minute donations to the parade.
ITID has collected about 600 pounds of food, mostly from ITID employees, she said.
Robert Trepp, organizer of the Acreage Fall Festival, set for the following Saturday, Nov. 10, has offered to set up a donation area at the front gate the day of the parade.
"For anybody who wants to contribute, he's going to contribute that to our food drive as well," Hutchison said.
The Acreage Fall Festival is a family-oriented food, fun and music event that features local and regional talent, a huge program car show, free bounce houses and a backyard barbecue rib contest.
On the day of the parade, ITID staff will be taking contributions for luminaries that will be used in the Acreage/Loxahatchee Relay for Life in April to benefit the American Cancer Society. The luminaries, paper bags filled with sand and lighted candles, are used to illuminate the track and arranged with inspirational messages during the night-long event. "One year they spelled out 'Hope.' They do it at night, so it's very pretty, and they have a touching time," Hutchison said.
One highlight of the Relay for Life is the luminary program, Hutchison said. People make donations for luminaries in memory or in honor of someone touched by cancer.
Santa and Mrs. Claus will be honored guests in the parade. "They're going to make an early appearance at the end of the parade," Hutchison said, adding that several floats will be throwing candy and souvenirs.
Clue, the PBSO's bloodhound, and the PBSO Honor Guard will be in the parade, as well as several Palm Beach County Fire-Rescue trucks.
Many equestrian groups and individuals will also be there, including Mr. and Mrs. Rodeo of Palm Beach County, the Sunshine Paso Fino Club and the Acreage Horseman's Association.
"Those will have several riders in their groups," Hutchison said.
For more information about the parade, visit www.indiantrail.com.