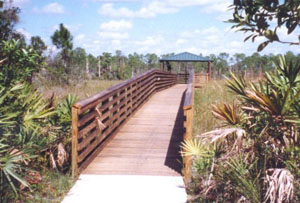 Royal Palm Beach is preparing to draw attention to a relatively unknown portion of the village called the Royal Palm Beach Pines Natural Area.
On Thursday, the Royal Palm Beach Village Council was expected to approve a request by the Florida Fish & Wildlife Conservation Commission to add a sign on Crestwood Blvd. for the birding trails, pointing out the Royal Palm Beach Pines Natural Area, which has an access point in the Saratoga Pines community off Crestwood Blvd. at 110 Nature's Way.
"This is an agreement between the village and the Florida Fish & Wildlife Conservation Commission concerning signs on our roadways," Village Manager Ray Liggins told the Town-Crier on Tuesday. "I live in the Royal Pines area, and I actually watch the birds out there. You can see hawks hunting, and there was an eagle that actually used to hunt out there. I walk back there quite a bit with my kids. I love it."
The sign will direct people to the Royal Palm Beach Pines Natural Area as a place to see birds and wildlife. "There is a little parking lot out there and a walkway and a trail that takes you to a little pavilion that's over some water," Liggins said. "It's actually a nice area."
The 800-acre area has a 1.5-mile trail and a 3-mile trail, as well as horse trails that are accessible from other areas in Loxahatchee Groves and The Acreage. The signs on Crestwood Blvd. will direct the public to the area for birdwatching and getting into the property.
"It is kind of hidden, and the signage is what gets you back there," Liggins said, pointing out that the village is proud of its public space and its designation as a bird sanctuary.
Of the village's 7,000 acres, more than 1,000 acres is public open space. "It is significant that we can have the urban environment and the natural environment," he said.
The Royal Palm Beach Pines Natural Area is owned by the county and was one of the first properties to be purchased under a bond issue approved by voters that authorized the sale of a total of $250 million in bonds for the acquisition of lands for conservation purposes.
Of that total, $100 million was earmarked for the purchase and conservation of agricultural lands in the county's agricultural reserve.
The remaining money, together with state and municipal matching funds and mitigation dollars, was used to acquire more than 31,000 acres that are owned or leased by the county and managed as natural areas or greenways by the county's Department of Environmental Resources Management.
The natural areas targeted for purchase were selected on the basis of their biological characteristics to preserve rare and diverse native ecosystems, as well as the plants and animals that live there.
There are 19 natural areas with public use facilities, such as a parking lot or trails. The natural areas are open from sunrise to sunset seven days a week, including holidays, for passive uses such as hiking, birdwatching, nature study and photography, as well as environmental education and scientific research. Recreational uses such as horseback riding, bicycling and fishing are permitted in designated areas only.
More than half of the 800-acre Royal Palm Beach Pines Natural Area is within the village limits, Liggins said. "Three hundred acres is unincorporated Palm Beach County and about 500 is in the village," he said, pointing out that other access points include Pines Road in RPB and at 40th Street and Avocado Blvd. in The Acreage.
The Royal Palm Beach Pines Natural Area does not hold any deep water but is designed to hold water during the wet season and is currently covered with water.
"Right now the whole area is somewhat flooded because it is a recharge area and it's designed to hold the water in," Liggins said. "There aren't any deep-water bodies, but there are shallow-water bodies, and the parking lot on Nature's Way off of Saratoga Way West actually has a boardwalk that goes out over the water."
The trail leads to a 175-foot boardwalk that ends at a covered pavilion, with seats and benches for casual, shaded viewing of the area.
ABOVE: A view of the Royal Palm Beach Pines Natural Area.