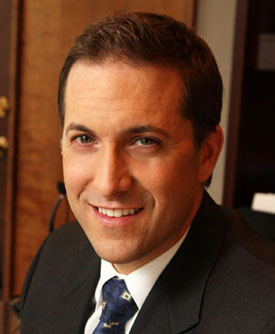 Democrat Dave Aronberg will take office in January as the new Palm Beach County State Attorney.
Aronberg, a former state senator, defeated two other candidates to become the county's top prosecutor.
Aronberg drew 301,201 votes (57.78 percent), while Republican Dina Keener garnered 197,239 votes (37.84 percent) and independent candidate Robert Gershman took 22,829 votes (4.38 percent).
Aronberg said he was elated after the hard-fought race, even though the experience required him to defend himself against numerous negative campaign ads and publicity.
"I'm a little tired, but feeling good," he told the Town-Crier on Wednesday. "I was so pleased with the outcome and grateful to the people of this county for their overwhelming support."
Aronberg said he tried to maintain a positive tone despite the attacks.
"We always felt cautiously optimistic about this race," Aronberg said. "I believed that by staying positive, we would overcome the negative campaigning that has turned off so many voters around the county."
When he takes the position, Aronberg said the first thing he plans to do is invite back some of the veteran assistant state attorneys who quit during the term of previous State Attorney Michael McAuliffe.
"I'm going to bring back some of the experienced prosecutors who have left the office in recent years because of disgust over the management," he said. "I'm going to better train the young attorneys. We're going to repair the relations between this once great office and the federal prosecutor's and state prosecutor's offices."
Aronberg also plans to have former State Attorney Barry Krischer come back in an advisory role to help set up the office. "We're going to restore the mission of the office to one of doing justice rather than politics," he said.
Aronberg said he enjoys a good relationship with Sheriff Ric Bradshaw, having worked with him most recently in controlling pill mills in the county in his role as drug czar under Florida Attorney General Pam Bondi for the past year, and previously as a state senator.
"We've worked together for over a decade," he said. "I'm looking forward to working with him again in this new capacity."
Aronberg said he plans to run the office as an efficient business.
"As the CEO of the largest law firm in Palm Beach County, I intend to have a caseload — to work on cases myself — but the main job of the state attorney is to lead an office of 300-plus employees with a budget of around $20 million," he said.
Aronberg said he is humbled by the overwhelming support by voters. "I'm very grateful to the people of this county and will not let them down," he said.
COUNTY COMMISSION
With the retirement of longtime county commissioners Karen Marcus and Burt Aaronson due to term limits, there will be two new faces on the Palm Beach County Commission.
Former Palm Beach Gardens Councilman Hal Valeche, a Republican, defeated Palm Beach Gardens Mayor David Levy, a Democrat, to claim Marcus' District 1 seat. The unofficial vote count was 45,839 (54.37 percent) for Valeche to 38,471 (45.63 percent) for Levy.
In District 5, Aaronson's longtime administrative assistant, Democrat Mary Lou Berger, claimed her boss's old seat, defeating Republican Paul Tocker, a former assistant county attorney in Schenectady, N.Y. Berger took 60,164 votes (68.91 percent) to Tocker's 27,148 votes (31.09 percent).
Incumbent Commissioner Shelley Vana, a Democrat, claimed a second term, defeating Republican Cliff Montross. Vana took 43,094 votes (66.72 percent) to 21,494 votes (33.28 percent) for Montross.
COUNTY QUESTIONS
Voters also approved two countywide questions on the general election ballot.
Voters approved allowing slot machines at pari-mutuel facilities by a vote of 276,872 (55.69 percent) in favor to 220,282 (44.31 percent) opposed.
The Palm Beach County Commission was granted an extension of its authority to grant special tax incentives to businesses. That referendum passed 281,197 (60.80 percent) in favor to 181,296 (39.2 percent) opposed.
SPECIAL DISTRICTS
Also Tuesday, Wayne Richards and Jean Enright earned new terms on the Port of Palm Beach Commission, while Drew Martin earned a new term on the Palm Beach Soil & Water Conservation District Board of Supervisors.