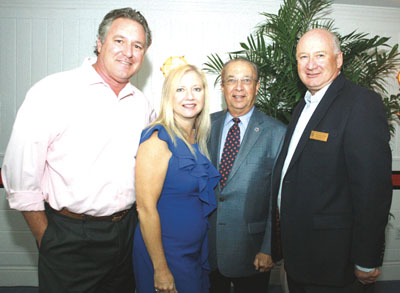 Back for its fourth year, the FTI Consulting Great Charity Challenge, presented by Fidelity Investments, will once again help make dreams come true for local charities, offering up more than $1 million in prize money to support nonprofit organizations.
The event returns to the Palm Beach International Equestrian Center on Saturday, Jan. 26, and Palm Beach County nonprofits have until Monday, Nov. 26 to turn in applications to be included.
Wellington charities will have a particularly good chance to get a spot this year, with 25 percent of the charities selected coming from the community. Applicants can register at www.equestriansport.com.
The 32 participating charities will be selected during a drawing at WinterFest on Saturday, Dec. 1 at the PBIEC and then paired with a team of riders to represent them in the ring.
"This event allows the equestrian community to showcase and financially support the broad missions of 32 randomly selected Palm Beach County charities," said Mark Bellissimo, CEO of Equestrian Sport Productions. "The people who run these charities are amazing, and we need to support them during these difficult times."
In its first three years, the Great Charity Challenge raised more than $2.7 million to support more than 60 Palm Beach County charities. Last year, the event raised $1.2 million, and Bellissimo said he hopes to increase that amount in 2013.
"We are going to have record fundraising, and I am confident we will eclipse last year's total," he said. "That would bring the total amount given to Palm Beach County charities to $4 million."
The event has supported charities large and small. Though they may be varied in size and purpose, each and every one of them is given the same opportunity.
"It really takes the politics out of it," Bellissimo's daughter Paige told the Town-Crier Wednesday. "A key element is the random selection. It offers many charities the opportunity to share their mission, even if they don't have the funding or the means to do so otherwise."
Her father agreed. "Including so many different charities in one single event and having each one of them come out a winner is unique," he said. "This event is not about a specific charity but the spirit of giving while celebrating the heroes in our community."
And all the money goes to charities, with financing for the event itself donated by Equestrian Sport Productions.
"The uniqueness of the event is that there are no administrative costs, so that 100 percent of the money raised goes to the charities," said Bellissimo's wife Katherine. "We see it as an additional contribution, providing the excitement of the event and the costs of putting it on."
A shining example of the impact these contributions can have is Place of Hope, which used its $125,000 to help care for abused and neglected children and teens in the foster care system, as well as young adults who have aged out of the system but still need help.
"This year, we successfully launched Joann's Cottage Maternity Home for pregnant teens with nowhere else to turn," Executive Director Charles Bender said. "This is the first family-based maternity home in Palm Beach County."
And the publicity given to the event helped Place of Hope share its platform, urging other donors to match the money won in the Great Charity Challenge, for a total of $270,000 raised.
The much-needed funds have helped the organization build its thrift store, which, once complete, will continue to provide ongoing financing. "This is a year of expansion," Bender said. "We have greater needs with more kids coming into our care. Every dollar we raised goes to them."
The event also will leave a lasting legacy for local schoolchildren, who benefited when the Wellington PTA/PTO Group took home first place and $150,000 last year. The funds were split among participating schools, with each getting more than $11,000.
At Binks Forest Elementary School, the money helped bring technology up to date for students.
"It was used to purchase new computers for our lab," PTA President Tanya Siskind said. "The computer equipment was very old — we hadn't been upgraded for about 10 years."
She said receiving the donation was a blessing. "It's huge," Siskind said. "The kids need to be on computers and learn programs, especially in preparing for middle school."
Okeeheelee Middle School Principal David Samore said that the money helped him to cover the cost of items that often go overlooked. "The money is being used for extra things that we don't usually have the funding to do," he said. "Our PTSA is using some of it to promote school spirit, and we're using some of it to beautify our campus."
Samore said that it's rare to come in to such money. "We're going to spend the money wisely," he said. "We're using it so that it makes a difference. The students feel better about where they are and about our school."
The money has also helped to create lasting memories for seniors at Wellington and Palm Beach Central high schools, who come together with their class for the last time at Project Graduation, an event put on by parents to allow teens to celebrate graduation in a safe environment.
"It allows seniors to have an opportunity to celebrate together in a safe environment," PBCHS Student Activities Coordinator Donna Baxter said. "It's a really heartwarming event. When you put them together for the last time, they get very nostalgic because they understand that things will never be the same after they walk out those doors."
And schoolchildren will continue to benefit, as the PTA/PTO Group replaces the Wellington Community Foundation as the event's permanent charity.
The foundation received more than $111,000 over three years, but Bellissimo said he made the change because the foundation's money couldn't be redistributed through the community. "That foundation only focuses on capital improvement projects," he said. "We wanted the money to go directly to the people who need it."
Members of the PTA/PTO Group were ecstatic about the news.
"It's spectacular," Samore said. "The people involved are all volunteers. They don't make a cent, and their main reason for being a part of the organization is to help schools and students. I hope it gives them an opportunity to help more students."
Wellington charities will also have more representation, since a quarter of all participating charities will come from Wellington starting this year. Bellissimo said that the change was made at the urging of Councilwoman Anne Gerwig.
"It seems like Wellington sometimes gets overlooked because we're considered a wealthy area and people assume our charities must be well-funded," Gerwig said. "Our charities still need help."
Gerwig said she was glad to see more focus on Wellington's needy population. "I think it's a great idea for this to be a hometown event that supports our issues," she said. "It shows that they are committed to this community."
The Bellissimo family founded the Great Charity Challenge as a way for the equestrian community to give back to the area, bringing other equestrian residents and families on board.
Kim Van Kampen Boyer and her family have supported the event since its inception, first as a team sponsor, and now donating $100,000 in addition to sponsoring a relay team.
"My husband and I have a family foundation and believe very much in giving to local charities," she said. "We found that getting involved with the Great Charity Challenge was a way to expand our involvement in charities here. There are several charities we supported for many years, but this allowed us to expand our horizons."
Boyer said that the event was the perfect blend of an exciting equestrian event and a noble cause. "It's brought together the thrill of an equestrian competition and the spirit of giving back," she said. "It's a great family event as well."
It has also attracted the attention of corporate sponsors, such as FTI Consulting, which also sponsors the Winter Equestrian Festival.
"Through our sponsorship of the annual FTI WEF, our firm is able to extend our support into the local Palm Beach community, where our executive headquarters are based, and contribute to the success of this important fundraising effort," FTI Consulting Chairman Dennis Shaughnessy said. "This event continues to grow, and it is fantastic to be part of the equestrian world's initiative to give back to the community."
ABOVE: Equestrian Sport Productions CEO Mark Bellissimo, Wellington Councilwoman Anne Gerwig, former Wellington Councilman Dr. Carmine Priore and Equestrian Sport Productions President Michael Stone.