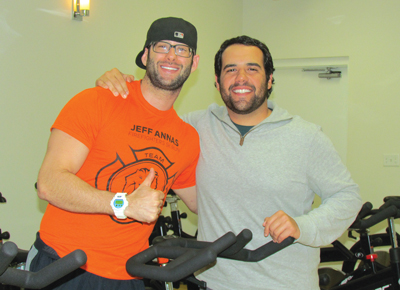 Iron Lion Fitness Studio in Wellington is giving back to the community with its second Ryde-A-Thon of the year and first-ever "Bags for Bases" Corn Hole Tournament on Sunday, Nov. 18.
The event will benefit the Christopher Aguirre Memorial Foundation, a charity that assists children and families facing hardship.
The foundation will be matching all the proceeds raised at the Ryde-a-Thon and giving it the Miracle League.
Iron Lion Fitness Studio co-owners Seth Kaufmann and Michael Bates are glad to be presenting another event supporting the community.
"From day one, our goal was to give back to the community as much as we can," Kaufmann said. "We get more fulfillment out of helping people than anything else."
The Christopher Aguirre Memorial Foundation works to raise money for various charities in the community. The Miracle League is a nonprofit organization that builds custom baseball fields for children with disabilities.
Since the Miracle League has prospects for building its first-ever field in Palm Beach County, assisting in these efforts is in line with the charity's mission. Co-founder Anthony Aguirre joined with other members of his family in starting the charity in 2008 as a way to remember his late brother.
"We have been around for four years trying to raise money with local businesses and giving back to the community for children and families," Aguirre said.
Once his family heard about the Miracle League, they knew they had to help. "We also do an annual softball tournament in December, where we usually raise most of our money," Aguirre said.
The foundation also awards scholarships to Wellington students going to Florida State University. "Last year, we awarded two $10,000 scholarships to seniors going to Florida State University, where my brother and I both went," Aguirre said.
The first Ryde-A-Thon the fitness studio did was in April, right before it officially opened its doors. The studio raised $5,000 for the Palm Beach School for Autism's new facility.
"Every six months we want to do a Ryde-A-Thon," Kaufmann said. "In April, we will be doing [one for] the Palm Beach School for Autism again."
People can register for the Ryde-A-Thon the day of the event, and all that's needed is a $5 minimum donation to ride from 10 a.m. to 3 pm. "You can ride for a few hours or five minutes, whatever you are comfortable doing," Kaufmann said.
The fundraiser will include the corn hole event, "Bags for Bases," at the same time as the Ryde-A-Thon, in the fitness studio parking lot. The entry fee will be $20 per team. "We are trying to get as many teams as possible out there," Kaufmann said. "That will run until there is a winner, and we will have a cash prize for the top three teams."
Kaufmann recommends that participants register for the tournament in advance, but teams can sign up the day of the event as well. The event will also include many raffle prizes, such as two tickets and VIP parking passes to a Miami Heat game, gift cards to local restaurants and more. Beverages will be provided by the Seahorse Fashion Cuisine and pizza provided by the Wellington High School band.
Iron Lion Fitness Studio offers a variety of health and wellness options, which include indoor cycling on RealRyder fitness bikes, personal training, weight management and yoga.
The RealRyder fitness bikes are very popular. Unlike spinning bikes, which are stationary, RealRyder bikes glide and move as the rider moves. The classes also are lively and upbeat. "Our philosophy is to play fun music, and let's make it a party," Kaufmann said.
The RealRyder bikes give a full body workout. "When you move, you work out your arms and core, not just your legs, so it's much different from a stationary bike," Kaufmann said.
Iron Lion Fitness Studio is located at 10660 W. Forest Hill Blvd., Suite 160, near Fresh Market in Wellington. For more information, visit www.ironlionfit.com or call (561) 204-LION (5466).
Information about the Nov. 18 event is available by calling Alex DeArmas, Ryde-A-Thon coordinator, at (561) 339-9275.
ABOVE: Iron Lion Fitness Studio co-owner Seth Kaufmann with Christopher Aguirre Memorial Foundation co-founder Anthony Aguirre.