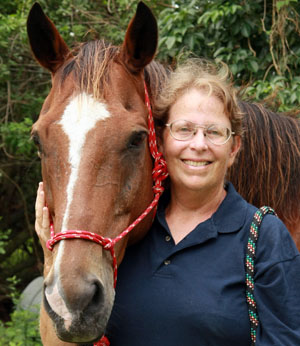 TAILS FROM THE TRAILS
Imagine… you've done nothing wrong, but you're sent to bed without dinner. You wake up hungry, but there's no breakfast. Or lunch. Food and water appears irregularly and infrequently. Now, imagine this scenario continuing for a week. Or a month. Or three months. You and your friends and relatives wander around your enclosure, growing progressively hungrier and thirstier, desperately attempting to eat anything that looks potentially edible.
Such was the plight of 14 horses rescued by Palm Beach County Animal Care & Control officers on Nov. 7.
"We received two anonymous calls about skinny horses standing in water on Sept. 11 and 13," Animal Care & Control Capt. David Walesky said. "This was shortly after Tropical Storm Isaac, and people were out checking on horses to make sure they had adequate food and dry pastures or stalls. We visited the facility on C Road in Loxahatchee Groves and started an investigation."
This led to a discussion with the owner.
"We always begin by talking with the owner and barn manager to find out what's going on, to see if there's something we can do to help or encourage them to improve the conditions. We always try to work with people," Walesky said. "We spoke with owner and told her we were concerned that the 15 horses were severely underweight. She said she was in hard times, and the place where she'd kept them in Caloosa had gone into foreclosure, so she'd moved them here a few months earlier. We gave her 30 days, until Nov. 7, to show some improvement in their food, water and shelter."
During those 30 days, AC&C officers kept an eye on the horses, doing drive-bys, but not much seemed to be improving. An appointment was made for the revisit, which the owner canceled at the last minute.
Capt. Walesky was ready for that, however, and entered the premises with a search warrant.
"We had reasonable suspicion of felony animal cruelty," he said. "Because they knew we were coming, they did have some hay and feed on hand, and some feed bills, but nothing adequate for 15 horses."
Which was, at that time, 14 horses. One had become ill and been euthanized by a vet the night before.
"The second visit made it clear that corrective action needed to be taken," Walesky said. "Some of the horses were in dangerous, serious decline and close to death. We served her with the search warrant and confiscated the remaining 14 horses, one a mare with a five-month-old colt by her side."
Within hours of the horses' arrival at AC&C's Belvedere Road facility, word went out to the horse community, and help started arriving.
"I was here when the first load of horses pulled in," local horse rescuer Debbie McBride said. "They were emaciated, dehydrated, in horrific condition. One stallion was so sick, collicking so bad, that the vet had to put him down. This just shouldn't happen. It never gets easier, seeing this."
By the next day, people were swarming the facility, willing to help in any way they could. Lynn Linfante of Lake Worth dropped off a bale of hay and a bag of Equine Senior feed. "It was all I could fit in my car," she apologized. "I used to have horses. I just had to help out."
Dr. Pam Wood, a small-animal veterinarian with VCA Wellington, lugged in three bales of hay. "I have two horses of my own," she explained. "These are tough economic times. I can't adopt one of them, but at least I can help out."
A woman walked into the AC&C lobby, informed them she'd just brought 150 pounds of horse feed. "Where do you want it?" she asked.
Tracy Rochford of Lake Worth signed up to volunteer with the daily care.
"I used to work with rescues," she said. "My heart is there. Anything I can do to help, clean stalls, groom them, whatever, I'll be more than glad. I'm also going to try to reach out to any contacts I have and ask for donations."
Horse rescue groups also came. Epona's Path dropped off feed, and Brad Gaver and Jennifer Swanson of Pure Thoughts Horse Rescue were on hand to help trim dry, overgrown hooves.
"I got here about three horses ago," Gaver laughed, trimming an alarmingly thin paint mare whose young colt, back in a stall, was chowing down on some hay. "I'll do some more today, and come back to do the rest tomorrow."
"The people who owned these horses were animal hoarders," Swanson said. "They said they were hobby breeders, but that's not a very good hobby when nice horses end up looking like this."
"We'll just keep helping with whatever they need," Gaver added. "Some of these horses may end up with us, eventually."
Where will they end up? That part's not clear.
"For now, they're all staying here at AC&C," Walesky said. "We have legal custody. The owner surrendered two of them, one (the stallion) we had to put down, and another one. The others she wants back, so we'll end up in court within about 45 days. After that, if we're awarded custody, we'll be looking to place them in appropriate, permanent homes."
While so many people offer to take in horses in need, AC&C is careful not to act in haste.
"A lot of people see horses like this, and their hearts go out to them. But you can't take on a responsibility like this spontaneously," he said. "You have to have the knowledge and resources to keep a horse and care for it properly."
The legal actions may take two forms. Civil courts deal with the question of property: who should have the horses. Then there may be criminal charges dealing with felony animal cruelty. In the meantime, the horses need food and care.
"The public has been very supportive," Walesky said. "We have a lot of bills associated with maintaining these horses — vets, feed, hay — which aren't in our regular budget. We've very thankful to the public and the whole horse community."
Want to help out? AC&C is still looking for donations of hay and feed, as well as body clipping services, hoof oil, skin and fungus remedies, thrush products (especially ThrushBGone), fly spray, soybean oil, de-wormers and especially cash, so the facility can meet whatever needs might arise.
"This is one of the worst cases of horse abuse and neglect we've ever seen," AC&C Operations Manager Gina DiPace said.
Indeed, just looking at what people have done to kind, trusting horses is difficult. Imagining what they've suffered is unspeakable.
To donate to AC&C, call (561) 233-1200 or visit www.pbcgov.com/animal.