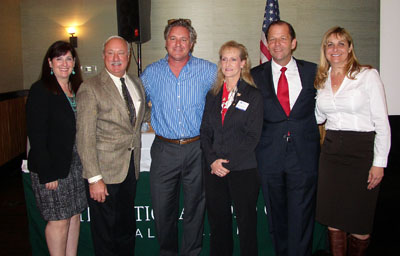 Leaders from Wellington's major equestrian disciplines spoke at the Central Palm Beach County Chamber of Commerce's monthly luncheon Monday to welcome the advent of the winter season.
The luncheon was hosted by the International Polo Club Palm Beach. IPC's President of Club Operations John Wash was one of the featured speakers, along with Equestrian Sport Productions CEO Mark Bellissimo and Gold Coast Dressage Association President Noreen O'Sullivan.
O'Sullivan is a member of the board of governors for the United States Dressage Federation and GCDA president since 2002. She helped launch the annual Gold Coast Dressage Association opener. She is also show manager and managing partner for Wellington Classic Dressage and International Horse Sport Palm Beach.
She said dressage has a rich, 31-year history in Wellington. "Each year we raise the bar in our community on behalf of our sport," O'Sullivan said.
Last year's World Dressage Masters Palm Beach, sponsored by IPC and hosted at the Jim Brandon Equestrian Center, was broadcast internationally and transmitted to Europe via Eurosport, which draws more than 56 million viewers live and on the web. "Clearly you can feel the international influence. Many of these riders we invite here return year to year," O'Sullivan said.
She said the influence to the community is tremendous for local businesses, and many of the competitors have made Wellington their home. "I'm proud to say that three of our four U.S Dressage Olympic riders qualified here at our Wellington Classic Dressage, Gold Coast Dressage and IHS shows, not to mention several other international riders who qualified here for their spots in the Olympics," O'Sullivan said.
Collectively, the three organizations she is affiliated with run more than 24 weeks of national and international dressage competition across two venues, the Jim Brandon Equestrian Center and the IHS Champions Park at White Fences Equestrian Estates.
"This year we also hosted two of the first-ever Para-Equestrian Dressage Olympic Qualifier competitions in our area over two back-to-back weekends in January," she said. "Throughout the year, we played host to over 2,600 horse and rider entries over 6,500 rides. We also bring thousands of spectators, as well as national and international vendors. The owners, riders, grooms, spectators and vendors support our local businesses."
Worldwide, there are more than 80,000 equestrians who spend $1.4 billion annually on products and services, O'Sullivan said. The majority own two or more homes, three vehicles, four horses and, on the average, compete more than six times a year. "I think in Wellington that's a higher average because we have a show almost every week here, especially during the season," she said.
Bellissimo is managing partner of Wellington Equestrian Partners, which owns and operates the Winter Equestrian Festival through its show-promotion company, Equestrian Sport Productions.
The WEP partnership has invested $230 million-plus in real estate and licenses over the past four years and is developing the Palm Beach International Equestrian Center, which is dedicated to creating an international equestrian lifestyle destination on 500 acres in Wellington. The project consists of various horse shows and commercial and residential components, he said.
"There is such a great opportunity in Wellington and Palm Beach County," Bellissimo said. "It is probably one of the most unique environments in the world, and not too many people understand it."
When Wellington Equestrian Partners took over the Winter Equestrian Festival in 2006 from founder Gene Mische, Bellissimo said the event was losing money, there was no permanent facility and there had been no investment in it. "At a time when the financial crisis hit, while most of the world was retreating, we did something very different," he said. "We advanced. We not only made a very large investment in real estate, but over that time period we invested."
Since then, the Winter Equestrian Festival has grown about 20 percent a year despite the tough economic times.
What is growing now is what he calls the "shoulder periods" at the beginning and end of the normal season from October to December and March and April. "The most important, relevant issue for us is really not the event itself, because what I'm hoping that you will take away from that event is that it is accessible and affordable," Bellissimo said.
The biggest challenge for all three venues is closing a huge gap to what many people consider elite sports, and demonstrating that equestrian sports are good entertainment, he said.
"Our team has really gone down a path of trying to open up this facility in a world when people want to keep it closed," he said. "They want to keep it tight, they want to keep it small and they want to keep it private, so with great controversy and great energy, we've decided to do something really different and to make it accessible."
This has meant efforts to get as many people to equestrian events as possible. "This strategy has been working," Bellissimo said. "We have been getting anywhere from 7,000 to 9,000 people on a Saturday evening, and they are in jeans and polo shirts and T-shirts. There are also thousands of children there."
Wash, who directs operations at both IPC and the Wanderers Club, is also working to make polo more mainstream to residents of Wellington and the Palm Beaches.
Wash said IPC is preparing to start its 10th anniversary season. "It's really kind of hard to believe, and when you look back at the history of this land, it was just cattle and orange fields and strawberries," Wash said. "There was a great vision, and we've continued to grow into one of the premier clubs in the world. Just this past year, the United States Polo Association awarded us the U.S. Open for another three years, so we're here, we're going to be here and we're going to continue to grow."
He said there have been many memorable moments in the past 10 years, including the 100th anniversary of the U.S. Open in 2004, when there was a big rush to get the field under lights.
"In 2009, we played the Westchester Cup here," he said. "It was the epic battle between the United States and England, and that was the first time that tournament was played in the United States since 1939."
Year after year, they do the Outback 40-goal Challenge. "We bring eight 10-goal polo players, the best in the world," Wash said. "It's probably the only place in the country that there has been a 40-goal challenge."
IPC also believes in getting involved in the community, he said. "We had the AYSO Soccer Challenge here in 2010," Wash said, with 192 soccer teams coming to Wellington to compete. "We brought about $7 million to Palm Beach County," he said. "We were able to do that because we have 220 acres of flat land, a lot of grass, contiguous and the opportunities are there for us to open our doors and help the county, to help all the local businesses."
This Thanksgiving and in 2013, IPC will host one of the largest sporting events in the world, the National Field Hockey Festival, in cooperation with USA Field Hockey and the Palm Beach County Sports Commission.
"There will be over 230 teams that will be here and over 4,000 athletes from the United States, Canada, Europe and the Caribbean that will be here during Thanksgiving week, so I know it will be a big boost to the economy," he said. "I hope that the local businesses reach out to everybody. We're looking at about 8,000 visitors."
Guest speakers Equestrian Sport Productions CEO Mark Bellissimo, Gold Coast Dressage Association President Noreen O'Sullivan and International Polo Club Palm Beach President of Club Operations John Wash with chamber officials. (L-R) Mary Lou Bedford, Chamber Chairman Dr. Jeff Bishop, Bellissimo, O'Sullivan, Wash and Chamber CEO Jaene Miranda.