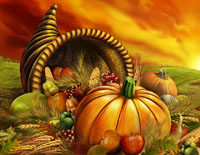 The fifth annual Acreage Fall Festival will take place Saturday, Nov. 10 from 11 a.m. to 10 p.m. at Acreage Community Park. This year's event will be bigger, with more attractions, said event organizer Robert Trepp.
"We are five years stronger," he said. "This will be an event that everybody in the community would want to attend."
This year's festival will include live music and entertainment on two stages, food, bounce houses and contests such as the Backyard BBQ Rib Cookoff. "We're on track this year to having the most cooks we have ever had," Trepp said.
The two newest and biggest additions to the festival include a helicopter ride and pro-am car show. "We try not to go overboard with things," Trepp said. "We have enough for everyone in the family to enjoy."
Trepp, an 11-year Acreage resident and businessman, is also the organizer of the Acreage Music & Chili Cookoff held each spring. He came up with the idea to start the fall festival after an overwhelming response for more community-unifying events.
"People would come to me and say it would be great to have an event where everybody in the community can come out, something toward the end of the year, since we have the chili fest in the beginning of the year," he said.
The purpose of the Acreage Fall Festival is to bring all the different groups in The Acreage together. "We have a lot of groups out here, and I just didn't think that there was an event out here that everybody could come to," Trepp said. "Whether you have horses, kids or are into sports, this is the one event that every Acreage resident looks forward to."
Tree's Wings & Ribs, one of the event sponsors, will be holding a rib-eating contest. "Whoever finishes a half-rack of ribs first wins," Trepp said.
From 2 p.m. to closing, there will be live music and entertainment on the main stage from local bands such as County Line Road, which will headline the event.
"They're from right here out in the western communities," Trepp said. "And we will have the band RPM, which is another local band that we have had at other events, and everybody keeps on asking us to bring them back."
Before the bands perform, local teenagers will be performing on the All Star Stage from 11 a.m. to 2 p.m. "We are doing this to give these teenagers a chance to get up on stage and perform in front of a crowd of people," Trepp said. "We want to help build their confidence while giving them a chance to show their musical talents."
Renegades Country Bar & Grill in West Palm Beach is also one of the event sponsors and will have a country dance tent where people will be able to line dance. "They will have a DJ there for people who enjoy line dancing," Trepp said.
There will also be a food court with a variety of festival food. "We will have everything from coffee and doughnuts to Caribbean food like jerk chicken," Trepp said.
There will be acres of space for people to set up chairs and blankets as well as seating available in covered tent areas.
Admission is $10 for adults and $5 for children age 4-10. For info., visit www.acreagefallfest.com.