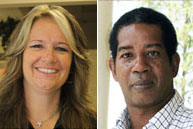 There will be one new face on the Indian Trail Improvement District Board of Supervisors after Tuesday's election.
While ITID President Michelle Damone won re-election to Seat 4, challenger Gary Dunkley unseated Supervisor Carlos Enriquez in the race for Seat 2.
Damone retained Seat 4, defeating challenger Ken Hendrick. She garnered 7,895 votes (53.71 percent) to 6,805 votes (46.29 percent) for Hendrick, according to unofficial returns. In Seat 2, Dunkley drew 7,801 votes (54.76 percent) to Enriquez's 6,446 votes (45.24).
Damone said she was excited to have the support from the community. "I'm disappointed that Supervisor Enriquez didn't advance with me," she said. "I think it will have negative effects on the district, and I'm concerned about the administration and staff."
Damone said she was uncertain about the future of the district. "I'll no longer be in the driver's seat, so the next four years will be interesting," she said.
Damone pointed out that she has been in the minority before on the board but was still able to accomplish things. "I'm a leader and a fighter, and I'm a winner, and I will always prevail, no matter which position I'm in," she said. "I've said this many times over the years, I'm Michelle Damone before I'm anything else. With or without a title, I can still make things happen."
Enriquez said he was proud of his accomplishments over the past four years.
"I felt we made a lot of advances," he said. "We moved the district forward. I'm afraid of what the next four years is going to bring… but the voters spoke."
Enriquez said he plans to take a break from politics for a while and focus on his family and children. "This has taken a lot of time away from my kids and my family," he said.
Dunkley did not return several phone calls from the Town-Crier on Wednesday.
In an earlier interview, he said he was running because he believes that the ITID government is not open enough and does not get sufficient input from the public. He also believes the district should use the resources it has to expand its rural character. Dunkley has also been critical of how residents are greeted when they speak at meetings, explaining that he favors a more positive tone.
Regarding local issues, Dunkley does not believe that there was enough public input for the community center approved recently to be built at Acreage Community Park. He said that only about 100 residents responded to a survey by ITID, which he thought was insufficient. That project has been put on hold by the board as it works to recover from Tropical Storm Isaac.
Dunkley favors efforts to develop The Acreage as an equestrian-oriented community, citing the recent improvements to Nicole Hornstein Equestrian Park. He also thinks that ITID should continue with development of greenways, equestrian trails and pathways that will be conducive to an equestrian environment.
ABOVE: Michelle Damone and Gary Dunkley. Also shown are candidates celebrating on election night.