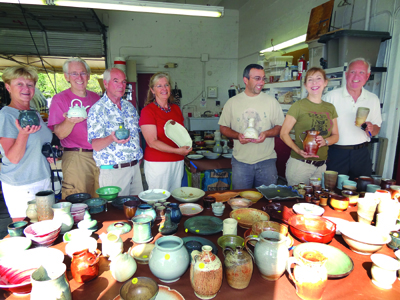 The Lighthouse ArtCenter will host its annual Holiday Art Gift Market on Sunday, Dec. 2 from 10 a.m. to 3 p.m. Members of the Lighthouse ArtCenter's faculty, as well as local artists and craftspeople, will offer a variety of paintings and pottery.
Proceeds support the ArtCenter's programs, and refreshments will be served.
"Some of the region's top artists will be on hand for this annual event," said Katie Deits, executive director of the ArtCenter.
Meet the artists and see interesting pottery and painting demonstrations by Justin Lambert (wheel-throwing), Ted Matz (painting) and others.
"Have a snack while you learn something and engage in a little light shopping for yourself or for those on your gift list," Deits said.
The Lighthouse ArtCenter is a member-supported not-for-profit community arts organization, providing excellence in art exhibitions, instruction, education and outreach for all ages. Programs are funded in part by the Cultural Council of Palm Beach County, the Palm Beach County Tourist Development Council and the Palm Beach County Board of County Commissioners.
For more information on the Lighthouse ArtCenter Museum, School of Art, exhibitions, programs and events, visit www.lighthousearts.org or call (561) 746-3101. The Lighthouse ArtCenter is located in Gallery Square North, 373 Tequesta Drive, Tequesta, one-half mile west of U.S. Highway 1. Museum hours are Monday through Friday, 10 a.m. to 4 p.m., with admission free for members and $5 for nonmembers age 12 and up. Saturday hours are 10 a.m. to 2 p.m., with free admission.
For more information about the Holiday Art Gift Market, call (561) 748-8737.
ABOVE: A table filled with ceramics at last year's Holiday Art Gift Market.