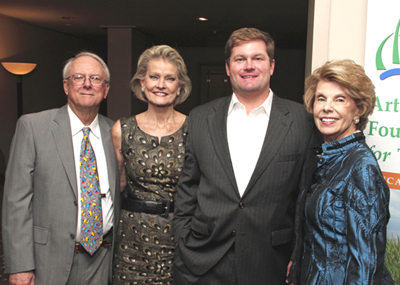 John and Nancy Marshall, board chair and president of the Arthur R. Marshall Foundation for the Everglades, recently hosted a VIP reception honoring recipients of the nonprofit organization's annual Champion of the Everglades Awards.
Held at Trump Plaza in West Palm Beach, the event was co-hosted by Pat, Jody and Chris Gleason.
More than 40 friends of the Marshall Foundation attended the VIP reception, including Grace Nelson, the wife of U.S. Senator Bill Nelson, a 2010 Champion of the Everglades award winner; Mark Perry, a board member of the Everglades Coalition, which won the award in 2009; and Everglades enthusiast Ron Bergeron of the Florida Wildlife Commission, who is receiving this year's Champion of the Everglades Award for an individual.
The other two 2012 recipients of the award are U.S. Secretary of the Interior Ken Salazar and the Florida Wildlife Federation, which is currently celebrating its 75th anniversary.
"The Marshall Foundation is proud to spotlight individuals and organizations that have made an outstanding contribution toward Everglades restoration over many years," Nancy Marshall said. "Individually, each of our three Champions of the Everglades 2012 continue to inspire us for their extraordinary efforts on behalf of the River of Grass. But collectively, they have been instrumental in forging both popular and governmental support for reviving, restoring and preserving one of America's greatest natural treasures."
Based in Palm Beach County, the Marshall Foundation champions the restoration and preservation of the greater Everglades ecosystem through science-based education and outreach programs.
Annually, more than 25,000 elementary and high school students in Palm Beach County actively participate in the Marshall Foundation's various education programs.
Founded in 1998, the nonprofit organization has in recent years awarded more than $450,000 in scholarships and internships, planted nearly 100,000 native Florida trees in wetland areas, and involved more than 5,000 volunteers in hands-on restoration projects.
The awards will be presented at the Marshall Foundation's seventh annual River of Grass Gala, which will be held Saturday, Dec. 8 at 6:30 p.m. at the Colony Hotel Pavilion (155 Hammon Ave., Palm Beach). Tickets cost $350 per person.
For more information, or to purchase tickets, call (561) 233-9004 or visit www.artmarshall.com.
ABOVE: John Marshall, Grace Nelson, Bill Nelson Jr. and Nancy Marshall. Photo by Corby Kaye's Studio Palm Beach.