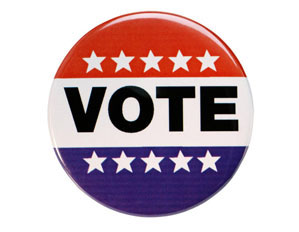 When voters head to the polls, they will be tasked with voting not only on a number of candidates, but also several amendments and ballot questions. The Town-Crier encourages all voters to be well informed and read up on each race before stepping into the polls, which are open from 7 a.m. to 7 p.m. on Tuesday, Nov. 6.
National Election — At the top of the ballot is the presidential race, where President Barack Obama and Vice President Joe Biden face a challenge from Republican nominees Mitt Romney and Paul Ryan, as well as several other minor-party candidates.
The Libertarian Party is fielding Gary Johnson and James P. Gray, while the Green Party has nominated Jill Stein and Cheri Honkala. In all, there are 12 named presidential and vice presidential candidates on the ballot from various parties, along with the option for a write-in candidate.
U.S. Senate & Congress — For the position of U.S. Senator, incumbent Democrat Bill Nelson is up against Republican Connie Mack and two no-party candidates, Bill Gaylor and Chris Borgia. There is also an unnamed write-in candidate in the running.
There are three local races for U.S. House of Representatives spanning parts of the western communities.
The newly drawn District 18 gives voters a choice between Republican incumbent Allen West, who currently serves in District 22, and Democratic opponent Patrick Murphy. There is also a write-in candidate option. Most Acreage residents and some Royal Palm Beach residents are in this district.
In District 20, longtime Democratic incumbent Alcee Hastings is challenged by no-party candidate Randall Terry, a national anti-abortion activist and West Virginia resident. Much of Royal Palm Beach and Loxahatchee Groves is in this district.
In District 21, Democratic Congressman Ted Deutch faces two no-party challengers, Cesar Henao and Michael Trout. Most Wellington residents are in this district.
State Attorney — Next up on the ballot is the race for Palm Beach County State Attorney with three candidates in the running. Republican Dina Keever, Democrat Dave Aronberg and no-party candidate Robert Gershman are all seeking the position.
State Legislature — In the race for the newly drawn District 25 State Senate seat, State Rep. Joseph Abruzzo (D-District 85) is up against Republican nominee Melanie Peterson. Nearly all residents of the western communities are in this district.
There are two local races for state representative, with incumbents facing challengers in their bids for election to newly drawn seats.
The District 85 State House Seat is being sought by State Rep. Pat Rooney (R-District 83) and Democratic nominee David Lutrin, an elementary school teacher. Most of The Acreage is in this district.
Meanwhile, the District 86 Seat pits State Rep. Mark Pafford (D-District 88) against Republican challenger Tami Donnally. This district covers most of Royal Palm Beach, Loxahatchee Groves and Wellington.
Tax Collector — Palm Beach County Tax Collector Anne Gannon, who won the Democratic primary in August, is on the ballot facing only an unnamed, write-in candidate.
Court Races — Voters will also decide on whether several state judges should stay on the bench.
For Justice of the Supreme Court, justices R. Fred Lewis, Barbara J. Pariente and Peggy A. Quince are looking to be retained.
In the 4th District Court of Appeal, the fate of judges Burton C. Conner and Carole Y. Taylor will be decided by voters.
Port of Palm Beach — There are two elections this year for seats on the Port of Palm Beach Commission. In Group 1, incumbent Wayne M. Richards faces a challenge from George A. Black Jr., with space for a write-in choice. In Group 3, incumbent Jean L. Enright faces only a write-in candidate.
Soil & Water District — Palm Beach Soil & Water Conservation District Vice Chair Drew A. Martin has a challenger this year in Stephen Jara for the Group 2 seat on the board.
Indian Trail — Residents living in activated units of the Indian Trail Improvement District will have the opportunity to weigh in on two races for seats on the ITID Board of Supervisors. ITID President Michelle Damone faces a challenge from Ken Hendrick in her bid for re-election to Seat 4. Meanwhile, Supervisor Carlos Enriquez is up against Gary Dunkley for Seat 2.
State Amendments — There are 11 state constitutional amendments before voters this year, spanning a wide range of issues. Topics run the gamut from using taxpayer money for religious organizations to giving additional homestead property tax exemptions to seniors, veterans, first responders and spouses of those killed in the line of duty.
For more information about each amendment, check out previous Town-Crier articles at www.gotowncrier.com.
County Questions — Finally, there are two Palm Beach County questions on the ballot. Voters will be able to choose whether to allow slot machine gambling in local pari-mutuels and whether to allow the Board of County Commissioners the ability to grant property tax exemptions to new and expanded businesses in Palm Beach County.
Detailed information on local races can be found in previous Town-Crier articles available at www.gotowncrier.com. More information can also be found at the Palm Beach County Supervisor of Elections web site at www.pbcelections.org or the Florida Division of Elections web site at election.dos.state.fl.us.