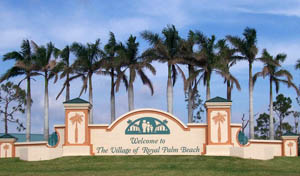 The Royal Palm Beach Planning & Zoning Commission on Tuesday recommended denial of a setback variance request for a decades-old accessory structure at a home on Martin Circle in the Willows.
Development Review Coordinator Kevin Erwin said the applicant was requesting a 4.5-foot rear setback, where the code requires a 20-foot setback, and a 6.5-foot side setback, where a 10-foot setback is required. Erwin said village staff recommended denial because the request did not meet criteria for variance requests.
The applicant, Richard Briant, said he has been a resident for more than 30 years and built the structure himself 25 years ago without a permit but had received no complaints. "It impacts no one; no one has ever really complained," Briant said. "It was brought to the attention of Royal Palm Beach because a neighbor was selling her house. She has a structure with the same problem."
Briant is the original occupant of the house and intends to remain there. He asked if a compromise could be reached.
Erwin said Briant had indicated that the structure is not movable and his only option would be to take it down. Briant said he uses the structure as a shelter for pool chemicals and a barbecue grill.
Commission Chair Barbara Powell asked whether he had any letters from neighbors indicating that they did not object to the structure, and Briant said he could get some.
Commission Alternate Joseph Boyle said that, considering the amount of time the building has been there, he would consider an exception for undue hardship if Briant could get neighbors' approval of the structure, but there was no precedent to base that on.
Commissioner Darrell Lange said this type of request, an exception for a building that has existed a long time, is always difficult. "I know three of my neighbors have had to remove structures similar to this because they tucked it into the corner of their property," he said. "If we were looking at this as if you had not built it yet, we would be telling you to reduce it, and not build it as big so you could meet the setback."
Lange said the commission only makes recommendations to the Royal Palm Beach Village Council but that he had seen the council turn down similar requests.
"It does look nice, but to me, the size of it is overbearing, but that's a personal opinion," he said. "I can't really see a site-specific hardship, other than you built it [and] now the hardship is having to remove it. Unfortunately, that's not in our purview."
Commissioner Richard Becher said he had spent hours reviewing the codes and found that the structure was built in 1986, the same year the code went into effect. He had agonized how they could allow the structure to remain, but could reach no other conclusion than that the project should have been researched. "It's a beautiful structure, but if you go strictly by the code, it's out of compliance," he said.
Commissioner Michael Newkirk said the decision was difficult, but the responsibility of the commission is to enforce the code. "On a personal level, if I were your neighbor, I'd have no problem with it," he said. "It looks great and looks like it was built well, but as a planning and zoning commission, that's not for us to decide."
Powell reiterated to Briant that he had the option to appeal his request to the council.
Becher made a motion to recommend denial of the variance request, and it carried 5-0.
In other business, the commission recommended color approval for the Lantern Walk multifamily development to repaint several of its buildings, even though the association had already painted the buildings.
Erwin said the applicants sought permission to paint the buildings beige and the clubhouse and fences gray, pointing out that the development had already painted the buildings before getting architectural approval.
"Phase one of Lantern Walk, which is pretty much north of Sunshine [Blvd.], were constructed prior to the architectural review ordinance and do not have an approved color scheme; however, the buildings have a white stucco base with gray trim and roof," Erwin said.
A representative for Lantern Walk said the buildings were painted a year ago and that the association did not know they needed approval. She said the buildings painted white are the older buildings.
Lange asked the representative whether the association had had a contractor paint the buildings, and she said they had, but that the contractor told her he had never heard of having to get approval. "That's because he didn't bother to look," Lange said. "He is responsible for the code. You're lucky you're not in Palm Beach County, which charges five or six times the permit fee for this kind of situation."
Lange said that other than not receiving approval, he liked the colors. Newkirk said he would have approved the colors had they received the application before the buildings were actually painted.
Lange made a motion to approve the color package, which passed 5-0.