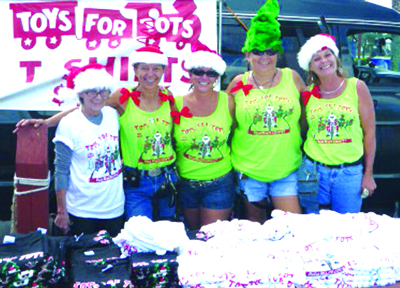 Bikers from across the state are convening in Palm Beach County this weekend for the 30th annual Bill's Bikes Memorial Toy Run.
Riding all types of motorcycles, hundreds of bikers will participate in the parade, kicking off at noon on Sunday, Dec. 2 at the South Florida Fairgrounds.
Riders cruise a 45-minute, 7-mile route to Dreher Park, where the event ends with music, food, drinks and vendors. All that is needed for admission is at least one new toy per rider or $10 per person, collected once riders reach the park.
Palm Beach County Motorcyclist Toys for Tots Inc., in cooperation with the U.S. Marine Corps, puts on the event every year. This year's event organizer is Jerry Watson, president of the organization. "I've been doing this since 1989, but I started out riding in it," she said.
After years of being a participant in the parade, Watson became a volunteer. "I've seen it grow from about 200 riders to, in recent years, around 2,000," she said.
Bill Casperson, who owned Bill's Bikes in West Palm Beach, started the initial toy run in 1982, along with other motorcycle enthusiasts. "Back then, they had only one minivan full of toys, and now we have a huge truck, provided by the Marine Corps, full of toys," Watson said.
After Casperson's death from cancer in 1995, supporters kept his legacy alive by naming the run in his honor. "Bill started this thing, and we could not stop," Watson said. "It has become one of the biggest contributors to Toys for Tots in the county."
The group will be giving all the toys and money raised to the Marines' Toys for Tots program, which distributes the toys to underprivileged children throughout Palm Beach County. "They actually have nonprofits and churches throughout the county fill out forms for children to get on the list to receive a toy," Watson said.
The money that is raised will be used to purchase missing toys on the list. "Say, for example, we are missing a toy for a 12-year-old boy on the list. We will go out, along with the Marine Corps, and purchase whatever is missing," Watson said. "We want to be sure that every child gets what they want."
Toys will be available for purchase at Dreher Park, and Walgreens will be matching every toy purchased there. "If bikers don't have enough room to carry toys on their bikes during the run, they are able to purchase toys once they arrive at the park," Watson explained.
The parade attracts thousands of spectators as it makes its way through West Palm Beach. "People come out with their folding chairs and sit on the sidelines while they watch the bikers come through," Watson said. "The children wave at us, and it's a really fun parade."
Bikers will be coming from throughout the state to participate. There will be more than 300 volunteers, many of whom are bikers, who want to give back to children who are less fortunate. "Motorcycle groups like the United States military vets group will be volunteering their time to provide safety and organization along the way," Watson said.
With bikers typically perceived as rough-natured, Watson believes that the run gives the public an opportunity to witness how that image has changed. "Bikers are of a different breed," she said. "This is actually one day where they can show a different side other than what people have believed them to be."
Backwoods Barbeque will provide the food. "The owner, who has been donating his services for many years, has created a large custom grill just for this event," Watson said. "So many people are involved in volunteering and donating that we have more money to buy toys for the children."
Antique cars also participate. "We typically have them toward the end or the beginning because we want to keep them away from the bikers," Watson said.
Riders must arrive early and meet at the fairgrounds. No pre-registration is required. For more information, visit www.billsbikestoyrun.com or call (561) 687-0365.
ABOVE: Palm Beach County Motorcyclist Toys for Tots board members sell T-shirts.