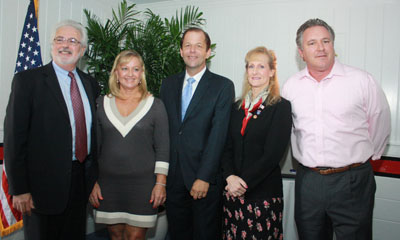 Members of the Wellington Chamber of Commerce kicked off the equestrian season with a luncheon Wednesday, Nov. 14 at the Wanderers Club.
Representatives from local equestrian venues were on hand to share information about their schedules.
For the International Polo Club Palm Beach, this season will mark one decade of high-goal polo at the world-class facility.
"Another season is upon us," said John Wash, IPC's president of club operations. "We're getting ready to celebrate our tenth year at IPC."
Wash projected many years of success to come, with IPC already slated to host some of the world's top polo tournaments.
"We had an announcement by the U.S. Polo Association at the end of our season last year that they have awarded us the C.V. Whitney Cup, the USPA Gold Cup and the U.S. Open Championship for another three years," Wash said. "That shows their commitment toward us. It's always reassuring to see the confidence that the USPA has in us."
Wash said it has been a memorable 10 years and that he hopes the community comes out to enjoy the facility.
"We've had many memorable events," he said. "We're looking forward to a long and healthy relationship here in Wellington. We invite you out to polo and look forward to all your support."
For a schedule of events, visit www.internationalpoloclub.com.
Members also learned about Wellington Classic Dressage, which stages shows at the Jim Brandon Equestrian Center.
Dressage came to the forefront of equestrian sports this year with presidential candidate Mitt Romney's horse Rafalca competing in the Olympic Games.
"Talk-show host Stephen Colbert declared dressage the number-one sport of the summer," Show Manager Noreen O'Sullivan said. "Since we're the winter equestrian capital of the world, I would like to declare dressage the number-one sport of the winter in Palm Beach, and we invite you to join us."
O'Sullivan said dressage competitions are staged year-round at Jim Brandon as well as at the stadium in White Fences.
"We hosted two of the first-ever para-equestrian qualifying competitions here in two back-to-back competition weekends," she said. "We also hosted riders from many different countries."
And the 2012 World Dressage Masters drew more than 10,000 spectators to the area. "It truly is the jewel of the season," she said. "It features top riders and trainers from around the world that we bring to Palm Beach."
For a schedule of events, visit www.wellingtonclassicdressage.com.
Gulfstream Polo, located west of Florida's Turnpike on Lake Worth Road, offers free spectator admission in a casual setting, said General Manager Marla Connor.
"It's a very quaint place to be," she said. "We have over 100 acres of land. On the entire property there are only seven homes. It's really oriented to the horses."
The facility offers low- and medium-goal polo, giving a place for players to learn and grow.
"We offer a four-goal league, an eight-goal league and a 12-goal league," she said. "We are known to play very competitive polo in a very relaxed atmosphere."
The season runs from December to April, she said. "Spectators are always welcome," Connor said. "There is never an admission charge. Though there are grandstands on our fields, we encourage tailgating. It's very relaxed and a very safe place to bring your family and friends."
For more information, visit www.gulfstreampolo.com.
Equestrian Sport Productions CEO Mark Bellissimo said that he is continuing to try to narrow the gap between equestrians and non-equestrians by offering family-fun events. "We try to break down the walls of what has traditionally been a very exclusive, private club," he said. "We've tried to increase the level of excitement and have seen explosive growth in the level of spectatorship."
This year marks the return of the Great Charity Challenge, which Bellissimo and his daughter, Paige, founded as a way to give back to the community. More than $1 million will be split among 32 charities as part of the relay jumping event in January.
"The focus of that fundraising is to give 100 percent back to the community," Bellissimo said. "We're also changing the format a bit so that 25 percent of the charities that will be selected are from Wellington."
The event is one of many, including high-level jumping and dressage competitions, that will be hosted at the Palm Beach International Equestrian Center and Equestrian Village.
For more information, visit www.equestriansport.com.
ABOVE: Wellington Chamber President Alec Domb, Marla Connor of Gulfstream Polo, John Wash of IPC, Noreen O'Sullivan of Wellington Classic Dressage and Mark Bellissimo of Equestrian Sport Productions.